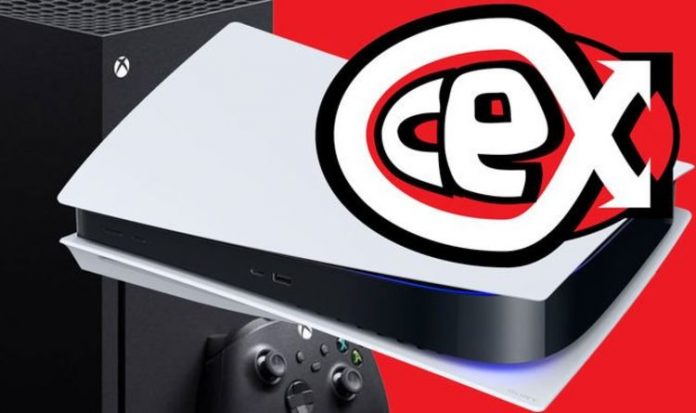 CeX is one of the few places you can actually buy PS5 or Xbox Series X stock in the UK right now, with the next-gen consoles sold out all other major retailers. But if you turn to the high-street retailer you'll have to fork out well over the market rate for Sony or Microsoft's latest and greatest consoles. Typically the PS5 and Xbox Series X both cost £449 – but CeX has listed these consoles on their website at an eye-watering £815 and £690 respectively.
For the PS5, that's not far off double its regular price, while CeX has the Xbox Series X at £241 more than it would typically cost.
It's important to point out that CeX, unlike other retailers like Amazon or GAME who received allocated PS5 stock directly from Sony, is a second hand retailer.
So CeX purchased their PS5 and Xbox Series X stock from gamers who were lucky enough to bag a console from another retailer before it sold out.
And CeX paid handily to get these units – with the retailer offering £650 in cash or vouchers for PS5 consoles and £550 in cash or vouchers for the Xbox Series X.
Which, in both cases, is considerably more than the consoles would typically cost to buy.
However, with few options available for parents hoping to get a PS5 or Xbox Series X as a Christmas present for their kids, the marked-up price hasn't gone unnoticed.
Parents have accused the retailer of "cashing in" and "preying on" demand for the consoles.
As reported on in a post by HullLive, one parent who did not wish to be named said: "They're totally cashing in on a really frustrating situation because they know parents are desperate enough to pay.
"It's fair enough to make a mark up, to make a profit, but it's not worth that much, it's actually really unfair. I won't ever be shopping there again."
While others have criticised the CeX pricing on the retailer's official Facebook page.
Anthony Mackessy said: "Disgusted that you would sell the ps5 with that much of a mark up vs rrp. I will look elsewhere for my gaming needs in future."
Alistair Munro said: "The price for buying and selling of PS5s in particular is sickening.
"You are taking advantage of those in financial needs by tempting them with higher offers than you know they paid out for these consoles which more than likely were supposed to be for Christmas presents.
"But to then sell on or FLIP for over £800 is just pure greed and disgusting. Again preying on your customers desire to get the ultimate toy for their kids."
While Ashraf Wahid wrote: "You are meant to be a proper business not Dave down the street who's selling them out of his Vauxhall Corsa for double RRP?"
Express.co.uk has contacted CeX for comment about its next gen pricing.
Earlier this month Eurogamer spoke to a number of CeX workers, under the condition of anonymity, who were left frustrated by the next-gen markup.
One CeX staff member said: "Obviously none of us think it's good. We have been told that the price is that high to match with eBay but that's when it was £750, it's now even higher.
"CEX is legally in the right to put the price to whatever they want but morally I find it repugnant and think they are helping keep the scalping prices so high in a year when we could all use a little bit less crap to deal with.
"A new console might bring someone's mood up and I know personally I use games as a stress release and to take my mind off of things."
While another employee added: "The demand is sky high. People will still pay it (even if that means staff can [expect] an earful as a result).
"I completely understand the argument about the high price and of course there is a moral dilemma that comes with it.
"Am I expecting to receive abuse from customers when the stores reopen? Absolutely. Am I comfortable selling a £450 console for over £800?
"Not really but if someone is going to pay it I'm not going to turn them away."