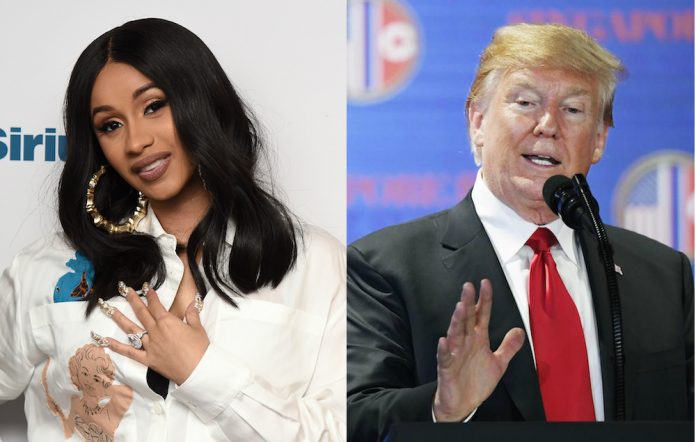 [ad_1]

The hip-hop star discussed the US President's form so far in a new interview
Cardi B has discussed her views on Donald Trump, questioning why he hasn't been impeached.
The hip-hop star released her debut album 'Invasion Of Privacy' earlier this year and is now taking time off as she prepares to give birth to her first baby.
Speaking to Rolling Stone, the latest cover of which features her and her partner Offset, Cardi said: "Every artist has explained how harmful he is. He has made divisions in this country – he almost made a crazy civil war between the blacks and the whites. He has proven himself to be a madman so many times and proven himself to be disrespectful to women, and that still hasn't gotten him impeached."
She continued to say Bill Clinton was impeached "for cheating on his wife" and that "it's so clear that this n***a has sex with so many porn stars, and he's just been shown to be a dickhead, and it's like, 'Nope.'"
The 'Bodak Yellow' star also gave her thoughts on gun control, saying she thinks gun laws need to be tighter and should require mental evaluations to be done before giving anyone a gun license. However, she doesn't think guns should be banned entirely. "God forbid the government tries to take us over, and we can't defend ourselves because we don't have no weapons," she said. "How do you think American colonisers went to Africa and it was so easy for them to get those people? Because they had guns.
"No matter what weapon you have, you can't beat a gun. They have weapons like nuclear bombs that we don't have. So imagine us not having any weapons at all."
Cardi recently featured on Rita Ora's controversial track 'Girls', alongside Charli XCX and Bebe Rexha. The song was criticised for being "tone deaf" and "harmful". Cardi later defended the track, saying: "We never try to cause harm or had bad intentions with the song. I personally myself had experiences with other woman, shiieeet a lot of woman ! I though the song was a good song and I remember my experience."
[ad_2]