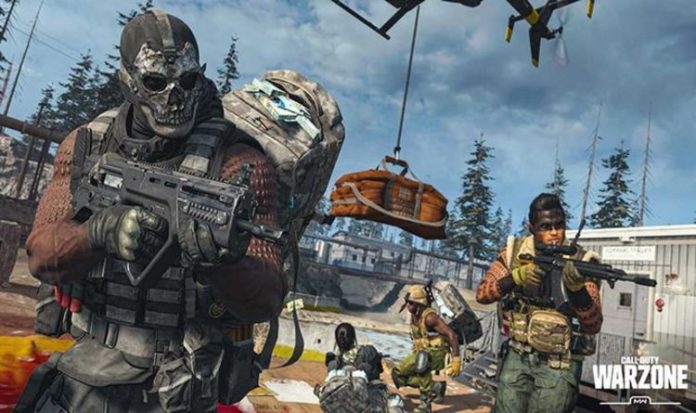 A new Call of Duty Warzone update time has been reportedly set by developers Raven Software for this week.
A new COD patch is expected to launch in the next 24-hours, with very little shared on what is being planned.
However, PS4 gamers have noticed that a new pre-load has arrived on the PlayStation Store, allowing them to get ready for a new install.
The official Call of Duty Warzone update time has been set for 7am on February 5, 2021, across PS4, Xbox One and PC.
Meanwhile, gamers in the United States should receive the same patch at 11pm PDT, on February 4.
Raven Software has made no indication regarding what will be included in the new patch, as of yet.
But it seems pretty likely that the latest Warzone Stim Glitch will be targeted and hopefully removed.
Warzone update 1.31 could be just the latest build that deals with the problem, which allows gamers to use the item for an indefinite period.
The Stim Glitch is usually a one-use item that can be found in crates and used to instantly heal yourself.
It doesn't affect your armour plating but it can be a crucial save in tight gunfights, much like the Self-Revive item.
It's also an item that is constantly used to ruin matches via the certain exploits that keep being found.
The Warzone Stim Glitch makes it possible to use the item over-and-over again, meaning you can just sit in the storm and wait for everyone else to die.
It sounds like an extremely boring thing to do and is something that can be used to boost your win numbers.
But every time it's found by someone, it's popularity spikes and everyone wants to know how to use the glitch.
Raven Software recently confirmed that they had a fix for the issues scheduled for launch, which would lineup with the new update's release date.
But until we hear more from Raven, we'll just have to guess what will be included in the new update.
Based on previous patches, we would expect the dev team to share a list of Warzone patch notes for when the new update goes live.
These should give us a rundown of what is being changed or added to the game. At this point, it's unclear if this will also be when the Playlist patch goes live.
Armored Royale is expected to make a comeback before the end of Season One, which means it will need to pop up in February.
For those who might have forgotten the rules of Armored Royale, here's the official description from Activision:
"In Armored Royale, the Cargo Truck, a notorious vehicle in standard Battle Royale gets a serious upgrade through reinforced armour plating, a built-in turret, and a custom mobile Buy Station for vehicle upgrades in the flatbed.
"Just like a standard Battle Royale Quads, squads of up to four players will infiltrate Verdansk with only a pistol to their name and will have to scavenge for weapons, equipment, and Cash. With the option to bring in their own custom Loadouts via Loadout Drops, squads will encounter and engage enemy squads while avoiding the deadly circle collapse in order to be the last team standing.
"Despite these similarities, there is one massive, hulking, and motorized difference between a Battle Royale and an Armored Royale: the Armored Cargo Truck, which brings a few new mechanics that amp up the Warzone formula via heavy vehicular-based combat."
Warzone Rumble is another mode that is expected to pop up before the end of Warzone Season One but has not been given a solid release date.