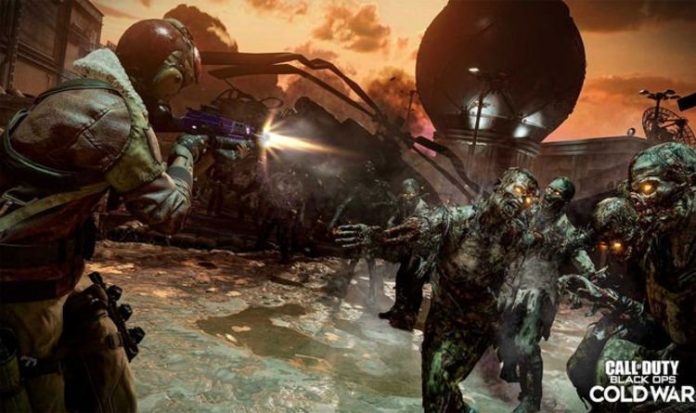 With a whole new map to explore, there's plenty of fresh content and secrets to find in Call of Duty Black Ops: Cold War Zombies.
But one of the main draws that will keep Undead fans coming back is the Firebase Z Easter Eggs, some of which are already available.
For now, the Firebase Z map cannot be completed via a boss battle and exfil, but there are other things that can be found.
This includes unlocking the new Rai K-84, a Wonder Weapon with plenty of firepower that can take a chunk out of those hordes.
As you might expect, it's a complicated process that involves going on a big Easter Egg hunt around the Firebase Z map.
Alternatively, you might get lucky and find the Rai K-84 popping up in the Mystery Box, which costs around $950 each time you take a spin.
The previous Call of Duty Black Ops: Cold War map provided a better chance of grabbing better weapons the higher rounds you got to, so that might make grabbing the Wonder Weapon easier from the Mystery Box.
For those interested, the Rai K-84 becomes unlockable after turning the power back on to the Base and Village.
You need to grab the blueprint from the Weapons Lab wall and then collect the part listed.
But while this will keep gamers occupied today, it won't be long before the main Firebase Z Easter egg goes live on PS4, Xbox One and PC.
WHEN IS THE FIREBASE Z EASTER EGG RELEASE TIME?
The Firebase Z Easter egg release time has been scheduled for Friday, February 5, at 5pm GMT.
A message from developers Treyarch reveals: "The main Easter Egg quest in Firebase Z will be disabled at launch until 9AM PT / 12PM ET / 5PM GMT Friday, Feb. 5 to make sure everyone can start the hunt on equal footing.
"To celebrate the continuation of Season One, Double XP will be live in Black Ops Cold War and Warzone on all platforms starting on February 5 through February 8, with PlayStation Operators receiving another full day of Double XP today, February 4."
So the new Zombies map Easter egg quest will go live around the same time as Double XP goes live, giving you a better chance at leveling up and earning your next Prestige.
You can imagine that the new Firebase Z map quest will include plenty of running around and extra story elements, as well as tough opponents.
Here's the initial briefing shared by Treyarch before the Firebase Z Easter egg launch this week:
"Your mission begins somewhere in the A Shau Valley of Vietnam, where a small village acts as the infil site for Requiem and a haven for the Omega Group informant.
"He resides within the Atrium, one of two main buildings within the Courtyard that also contains a Pack-a-Punch Machine that needs power.
"You can find the Atrium by walking past the main road and turning left toward a massive tree. Before entering the Atrium, there is a Crafting Table and an Uncommon Magnum available on the wall, in case your starting loadout weapon isn't cutting it so far.
"Turning immediately left from the spawn area will bring you up the stairs to a Radio Room, which offers great sightlines across the Courtyard and an access point to the Atrium's roof.
"When the power is turned on, this side of the starting area opens up to include even more rooms to explore, including ones with the Arsenal and Der Wunderfizz machine.
"The only other area that can be accessed before power is activated is the Equipment Storage, where you'll find an Ammo box on the side of the road and the map's Quick Revive Perk Machine. Enter the building and climb its stairs past a convenient shotgun Wall Buy to access a rooftop walkway, which leads to the Teleporter Transfer into the main outpost."