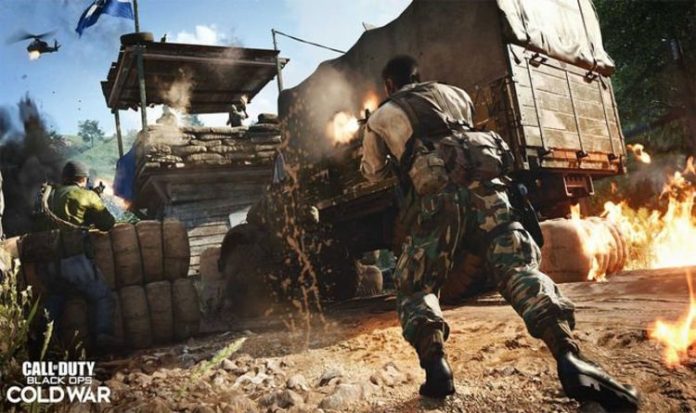 Version 1.12 of Call of Duty Cold War is set to be the patch that brings all the best bits of Season 2 to PS4, Xbox One, PC and next-gen consoles.
And while gamers will have to wait until February 25 to actually access that content, some gamers can get ahead of the crowd and pre-install.
Like with other high-profile Call of Duty updates, Cold War 1.12 has been released early on PS4 and PS5 consoles.
This doesn't mean you can download and update your game straight away though, as that won't be an option until later.
It just means you can avoid the crowds when it comes to the new update being released on February 24.
According to those downloading the patch early, Call of Duty Cold War update 1.12 weighs in at around 11GB.
That's pretty small in comparison to previous patches, although download sizes could different by platform.
So if you own Cold War on PlayStation consoles, you can start downloading the Season 2 patch right now.
WHEN IS COLD WAR SEASON TWO COMING OUT?
According to Treyarch, Call of Duty Cold War Season 2 will start at 5am GMT on February 25, 2021.
Meanwhile, today's patch will be going available to download for those on Xbox and PC platforms between 5am GMT and 7am GMT, on February 24.
If you live in the United States, this could mean that the Same COD update will be dropping between 9pm PT and 11pm PT on February 23.
A message from Treyarch confirms: "Our Black Ops Cold War Season Two download starts rolling out at 9pm PT!
"This will include early access to the Death Machine Scorestreak, new title screen, and new lobby.
"Then 24 hours later, Season Two begins at 9pm PT Feb. 24 / 12am ET Feb. 25! Patch notes incoming tomorrow."
And as mentioned above, the Cold War Season 2 download going live in the coming hours will also offer early access to a new scorestreak.
This new Call of Duty ability makes it possible to wield a Mini Gun in both multiplayer and Zombies Mode.
The official description explains: "First seen in the original Black Ops; the Death Machine is a handheld minigun with high damage rounds that suppress enemies in the line of fire.
"Its raw damage output also allows it to tear through low-flying or grounded enemy Scorestreaks, as well as vehicles.
"As of Season Two, the Death Machine will also be added into Zombies as an additional Support weapon in Outbreak, "Firebase Z," and "Die Maschine."
NEW WARZONE UPDATE
A new Call of Duty Warzone update is also being released this week as part of the Season 2 launch.
This will add a number of new weapons to the game and make map changes to Verdansk.
This new download will be going live at the same time as Season Two, meaning the next Call of Duty Warzone update will be dropping at 5am GMT on February 25, 2021.
Away from Verdansk, and Warzone gamers will also notice that a new extreme Resurgence mode is being added to the game this week.
Rebirth Island Resurgence Extreme makes one key tweak, as it will double the number of players on the map, with the full description explaining:
"The high-octane, respawn-enabled Resurgence mode on Rebirth Island will be taken to the extreme during Season Two, upping the max player count in the limited-time Rebirth Island Resurgence Extreme mode. Up to 90 players can drop onto Rebirth Island for an incredibly frenetic fight for supremacy, as they look to eliminate every last member of enemy squads to prevent them from getting a second, third, or even forth chance at revenge.
"Just like Resurgence, squad members can spawn back in if their Rebirth Countdown hits zero and at least one of their allies is still alive, and specific Caches around the map will refresh their items frequently to ensure there is no shortage of firepower around the island."