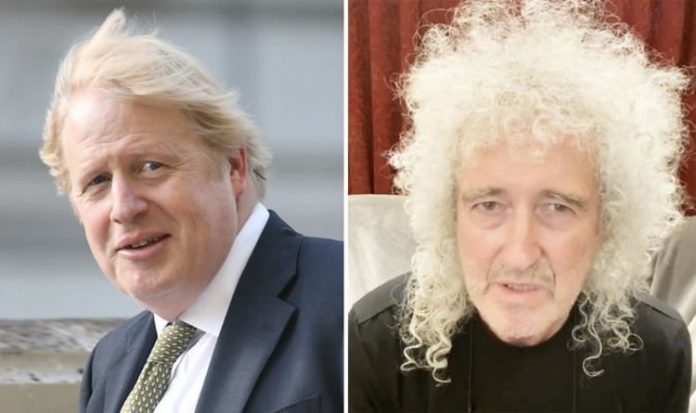 The Queen guitarist Brian May has shared his views on the coronavirus rules loosening this Christmas between December 23 and 27. The government's relaxation of the guidelines means that up to three households in England and Northern Ireland can form a temporary Christmas bubble and mix indoors at private homes, while Scotland and Wales have slightly different rules. Additionally, there will be no travel restrictions with the loosening being allowed in whatever tier of the country you're in.
But now May has shared a plea with Britain to be as safe as possible this Christmas, claiming that Prime Minister Boris Johnson and his government's relaxed rules will cost thousands of lives.
The 73-year-old shared a video on his Instagram account from last year playing Deck the Halls on electric guitar alongside Arielle.
The rock legend wrote: "Christmas fun from last year – when things were oh so different, oh Lord…
"Me and my dear pal @officialarielle threw this together, with not a whisper of a suspicion that soon we would all be locked down in our rabbit holes and unable to jam. Well, well."
READ MORE: Queen's Brian May calls on Boris to 'rise up to the occasion' WATCH
May added: "And all you dear folks in other countries – I don't know what the advice is – but vaccination is on the way – surely it make sense to be patient just a little longer ? With love – Bri."
The Queen legend has suffered his own health issues this year having had a heart attack and ripped his Gluteus Maximus, the latter while gardening.
Nevertheless, he's come back with a bang, recording two charity singles in You Are The Champions and I'm A Woman.
And aside from the release of Queen and Adam Lambert's album Live Around The World, he's been working with We Will Rock You alumni Kerry Ellis on her new Christmas single.
Ellis' track is called One Beautiful Christmas Day and like May's other creative projects this year, was recorded with social distancing in place.
Asked how the 73-year-old's been protecting his health, the singer told Express.co.uk: "He's been really cautious. We've been very limited in and out of the studio.
"He's been really careful because obviously, he's probably a higher risk than I am. We made sure we were separated."
Last time we spoke with Ellis in February, she admitted that May doesn't sit still and is always busy. Yet despite his recent health problems, the Queen guitarist is powering on through, but being careful in the COVID-19 world we live in.
The We Will Rock You star said of their Christmas recordings: "It's like anybody: when you're happy and you're enjoying what you're doing, then it's amazing what your brain can do.A positive outlook can be so incredibly powerful."
"Brian's happiest when he's busy and when he's working. This has been a tough time for everybody with lockdown. [It's] having something to focus on…he can't sit still, he has to keep busy!
"But I think we all do, especially with this Christmas song, it was about putting something out that was positive at such a challenging time."
One Beautiful Christmas Day by Kerry Ellis & Brian May is available to download now from here.