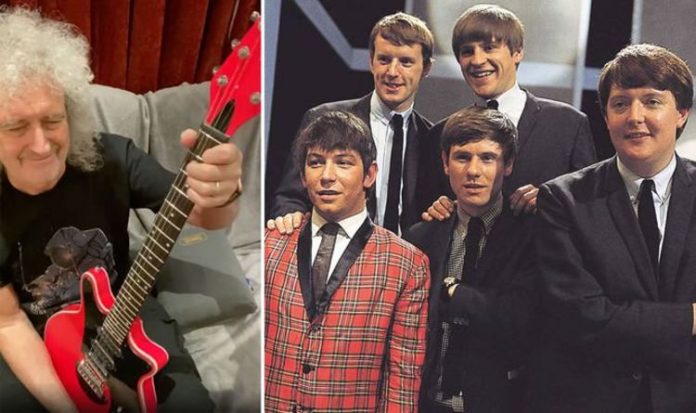 The Animals original guitarist Hilton Valentine died aged 77-years-old on January 29, 2021. The British rocker was well-known for writing the famous riff for 1964's The House of The Rising Sun. And now Queen guitarist Brian May has paid tribute by performing the track on his electric guitar.
May wrote on his Instagram: "THE HOUSE OF THE RISING SUN !!! – Hilton Valentine's immortal riff.
"Here's Hilton Valentine's immortal guitar riff introducing this revolutionary record released by the Animals in 1964. RIP Hilton – and thank you for these great steps into the future of Rock. Bri."
The 73-year-old appeared in an accompanying video with his Pinkest of all Pinks BMG Special guitar, which he intends to auction for women's charities after it appeared in last year's WOMAN music video.
He greeted fans: "Hi folks, Good Morning or Good Evening wherever you are!"
READ MORE: Elvis Presley: Lisa Marie graffiti found in Graceland drawer
May continued: "I'm going to take you back to 1964 when a revolutionary sound burst upon the airwaves. Something like this…
"It's The House of The Rising Sun, an immortal record made by The Animals and it really was totally revolutionary in its time because English pop music was not like that.
"It was very fluffy and rather lovely and melodic and sweet, but it didn't have the passion that this had."
The Queen legend pointed out how although The Animals were from Newcastle, they didn't care about English music all that much.
After performing The House of The Rising Sun, May also highlighted the talents of other members of The Animals.
He shared: "Eric Burton did a great job on the vocals, young white boy.
"Boys didn't sing like that in those days, but he did and he's still around – amazing guy."
The Queen guitarist also went on to speak warmly of bass player Chas Chandler.
May added: "[Chas Chandler's] the guy who went to America and discovered Jimi Hendrix and brought him back to England."
The 73-year-old also added a guitarists only version of the video, writing: "Well, mainly … if you're interested in that HOUSE OF THE RISING SUN intro. Here's my take on it … cheers ! Bri ( sorry this got stuck last night …)."
After lockdown he hopes to be back on stage touring with Queen and Adam Lambert later this summer, so who knows if a surprise cover will be performed?
After all, the band have played some Elvis Presley and Led Zeppelin in recent concerts.