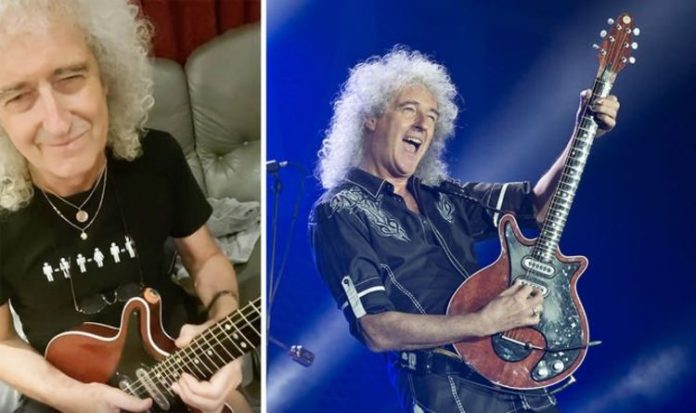 Brian May has been open with his fans about the tough year he's endured in terms of his physical health. Aside from tearing his Gluteus Maximus while gardening and being in incredible pain, the 73-year-old also suffered a heart attack. But now the Queen legend is on the mend and continues to work as hard and enthusiastically as ever.
In recent months, Queen and Adam Lambert released their first live album in Live Around the World, while May teamed up with WOMAN for their charity single I'm A Woman.
And now the rock legend has collaborated once again with We Will Rock You alumni Kerry Ellis, who has written a brand new festive track in One Beautiful Christmas Day.
Asked how May's been protecting his health, the 41-year-old said: "He's been really cautious. We've been very limited in and out of the studio.
"He's been really careful because obviously, he's probably a higher risk than I am. We made sure we were separated."
READ MORE: Brian May teams up for NEW Christmas song with Kerry Ellis – WATCH
Last time Express.co.uk spoke with Ellis in February, she admitted that May doesn't sit still and is always busy.
Yet despite his recent health problems, the Queen guitarist is powering on through, but being careful in the COVID-19 world we live in.
The We Will Rock You star said of their Christmas recordings: "It's like anybody: when you're happy and you're enjoying what you're doing, then it's amazing what your brain can do.
"A positive outlook can be so incredibly powerful."
Ellis said: "Ironically, before the first lockdown we were in the studio three songs into a new album.
"This [Christmas song] was to put something out, keep the interest out there, and then hopefully when we can get back into the studio again we'll carry on with that!"
"It's been difficult but we're on the road to a new album…hopefully sometime next year maybe."
The singer also has an upcoming Queen Machine Symphonic UK tour which has been postponed to October 2021 due to the pandemic.
The new show sees Ellis team up with the top European Queen tribute band and the 15 piece London Symphonic Rock Orchestra.
Ellis teased: "Fans get all the hits, they get everything they want to sing along to.
"There's also something slightly different with it because the songs that I'm kind of synonymous with like No-One But You, Love Of My Life and Somebody to Love, that have been part of my history [feature too]. And it's quite unusual to have an orchestra and a band on stage together. There's a bit of everything, the lighting is incredible!"
One Beautiful Christmas Day by Kerry Ellis & Brian May is available to download now from here.