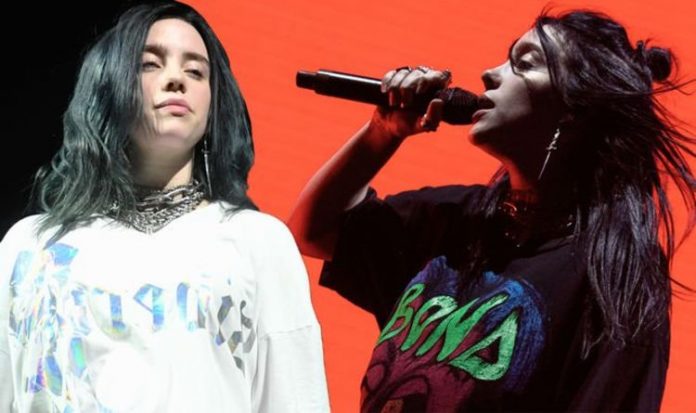 Billie Eilish: The World's A Little Blurry was released on Apple TV Plus today and detailed the journey the 19-year-old pop-star has been on for the past few years. The documentary kicks off in late 2018 and ends in early 2020, when she won 11 Grammy Awards, including Album of the Year. The young singer has remained private about her love life thus far, but The World's A Little Blurry allowed her to show fans another side to her.
The documentary revealed Eilish had been in a relationship with a musician named Q throughout filming.
Outside of music writing, recording and performances, Eilish was shown going on dates with Q, who is otherwise known as rapper 7:AMP.
The couple got together when Eilish was 16-years-old.
They were later shown at a roller rink together, where Eilish told him: "You're so fine. I love you."
READ MORE: Billie Eilish and Finneas on how 'lucky' they are to have Bond song
Eilish added: "And there was just a lack of effort, I think. I literally was just like, 'Dude, you don't even have enough love to love yourself, you can't love me. And you don't. Like, you think you do.'
"I do love him, though, which is what made it harder. 'Cause I'm not over him. I didn't find someone else. I didn't stop having love for him.
"I just, like, spent time away from him for a little bit and I was like, 'wow. I'm missing so much because I'm worried about you all the time.'
"I don't wanna fix him. I can't fix him, I've tried. I can't do it anymore."
7:AMP has since shut down his Instagram account.
In an interview with GQ UK in June 2020, Eilish confessed she is not looking for another relationship.
She said: "It is so weird, but I don't see it for myself. I know I will find someone eventually, but at the moment I can't visualise it.
"I feel like I am a totally different person when I am with someone else. People just don't do it for me.
"It's been months and I am not attracted to people any more. I don't know what's going on… It's actually kind of dope."
Billie Eilish: The World's A Little Blurry is available on Apple TV Plus now.