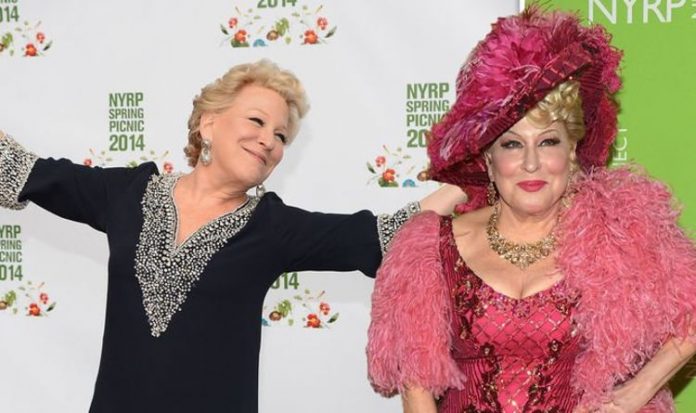 Bette Midler is today celebrating her 75th birthday, which is astonishing given her vivacity and performance skills. She has been working since 1966 across various mediums and is adored by fans globally. To mark her birthday, Express.co.uk takes a look back at her incredible career,
How many movies has Bette Midler been in?
Bette Midler was born December 1, 1945, making her 75-years-old today.
Her first role was in 1966, where she played an uncredited extra in the movie Hawaii, which was where she grew up.
However, she then relocated to New York City and her career began properly.
READ MORE:  McFly band members: Where are the members of McFly now?
She studied acting and landed a role in Off-Off-Broadway shows, before landing her first Broadway role as Tzeitel in Fiddler on the Roof.
After years collaborating with her piano accompanist, Barry Manilow, she released her debut album The Divine Miss M, which he co-produced.
She had great success with this album and released a self-titled follow up in 1973, a year later, and two more throughout the 1970s.
While Bette had mainly been known as a singer and Broadway performer by this time, she became better known for her acting when she starred in her first lead movie role, as a self-destructive rock star in The Rose.
Her turn received critical acclaim and she was nominated for her first Oscar, though she did win the Golden Globe and a Grammy for her work on the soundtrack.
She continued to star in movies from this point, and while the early 1980s was not a good period with regards critical acclaim, she turned things around with the movie Beaches, in which she starred opposite Barbara Hershey.
The 1988 tearjerker was a resounding success, as was Bette's soundtrack song, Wind Beneath My Wings, which is still her best-loved song.
This song won her third Grammy for Record of the Year, and also went platinum.
Overall, Bette has taken part in 35 movies, as well as six documentaries where she has featured as herself or as a narrator.
DON'T MISS
She has also appeared in a great many TV specials, often singing, dancing and acting or even playing versions of herself.
Her first leading TV role was in her own sitcom, Bette, which aired for 18 episodes in 2000.
After this, while Bette continued to take part in movies and TV shows, she made a triumphant return to the stage.
She starred in one-act play I'll Eat You Last: A Chat with Sue Mengers in 2013, after which she won her second Tony Award for her role in the revival of Hello, Dolly!, the first of which was the Special Tony for adding lustre to the Broadway season.
Most recently, she has garnered acclaim for her role in The Politician, in which she played scheming political advisor Hadassah Gold.