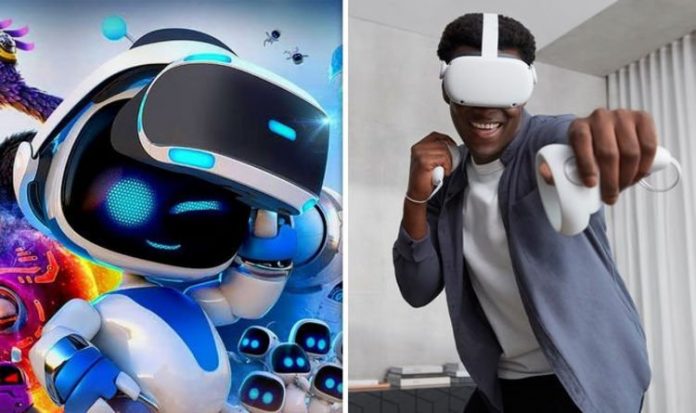 Best PSVR and Oculus Quest accessories (Image: OCULUS)
With Sony recently announcing plans to launch a follow-up to PlayStation VR, virtual reality is once again grabbing the headlines.
The next-generation PSVR will include all manner of enhancements, from improved resolution to superior field of view.
Arguably best of all is that it will connect to PS5 with a single cord. This will simplify the process of setting up the device, improve ease-of-use and increase immersion.
Then there's the new VR controller, which incorporates many of the features found within the PS5 DualSense pad.
The only downside is that the new PSVR won't be released until at least 2022. If you can't wait until next year to get your next-gen VR fix, then maybe it's time to invest in some immersion-boosting virtual reality accessories for PlayStation VR and Oculus Quest.
PSVR Aim Controller…
The PSVR was the first virtual reality device to bring VR to the mainstream. The only drawbacks being the complicated set-up process and abundance of wires.
To make up for the immersion-shattering wire-fest, Sony has released a number of accessories that have really improved the experience. This includes the PSVR Aim Controller, which replicates the feeling of holding a high-tech rifle.
The PSVR Aim Controller may look a bit like a toilet U bend, but when you've got the headset on and the controller in hand, you'll feel like a bonafide space marine. It's best played with PSVR exclusive Farpoint, which is part of the March PS Plus line-up.
Farpoint launched alongside PSVR Aim Controller (Image: SONY)
Oculus Quest 2 Elite Head Strap and Link Cable (Image: OCULUS)
Oculus Link Cable…
If you're an Oculus Quest owner with a PC capable of playing high-end virtual reality games, then you can get even more out of your VR device with an Oculus Link Cable (above).
The Link Cable connects your Oculus Quest headset to a PC, which means you can play advanced virtual reality games from the Rift Store and Steam VR.
In other words, you can play games like Half Life Alyx (below) without having to invest in another, more expensive virtual reality device.
Just attach the cable, download the Rift and Steam VR apps to your desktop, and it will open up a whole new virtual world to explore.
In addition to Half Life Alyx, I would also recommend Asgard's Wrath, Hellblade: Senua's Sacrifice VR, Project Wingman, and Lone Echo.
Oculus Quest owners can play Half Life Alyx via the Link Cable (Image: VALVE)
Oculus Quest 2 Elite Strap…
If you cast your mind back to my Oculus Quest 2 review, you'll remember my only major issue with the device was the lack of comfort – that, and the forced Facebook integration.
The elasticated head straps – which were likely included to reduce costs – are lightweight and of good quality, but the drawback is that the weight distribution is a bit too front heavy. This is especially problematic when using the device for daily workouts via FitXR and the likes.
Fortunately, there's an easy workaround courtesy of the Elite Strap. Easy to install, the Elite Strap replaces the default straps, which ultimately increases balance and support.
If you want to stay immersed for longer, then the Elite Strap is a must-have accessory that genuinely makes extended play sessions a lot more comfortable.
The Roto VR Chair (Image: ROTO)
Roto VR Chair…
If you visited Selfridges on Oxford Street last December, then you might already be familiar with the awesome RotoVR Chair.
The RotoVR Chair brings the thrill of the rollercoaster to your home with built-in haptic vibration and immersive head tracking technology that transports you into the game world.
Best of all is a motorised chair that actually shifts and rotates based on where you're looking. It feels incredible in games like Space Pirate Trainer, where you'll spin around shooting down robots from every angle.
It may sound like the sort of thing that will make you sick to your stomach, but the RotoVR Chair actually helps reduce motion sickness within virtual reality.
It's the sitting still while simultaneously shifting around virtual worlds that leads to motion sickness, something that the RotoVR Chair solves with some well timed swivelling and spinning.
It even comes with a set of touch pedals that can be used to move around the game world, without having to press any buttons.
As an added bonus, when you take the headset off and get back to regular old PC video games, the RotoVR actually makes a pretty decent gaming chair.
PlayStation VR 3dRudder (Image: SONY)
PSVR 3dRudder…
Another excellent PlayStation VR accessory, the PSVR 3dRudder is a motion controller that makes it feel like you're actually moving through those virtual worlds.
While seated, just place your feet on the controller and tilt them in the direction you want to move. The further you tilt, the faster you'll go.
The ability to pilot with your feet leaves your hands free to quickly and easily shoot, hit, grab objects, change weapons and display menus.
If you want to further immerse yourself into the world of PSVR, the 3dRudder works with the likes of Affected: The Manor, Space Junkies, Operation Warcade and Sairento VR.