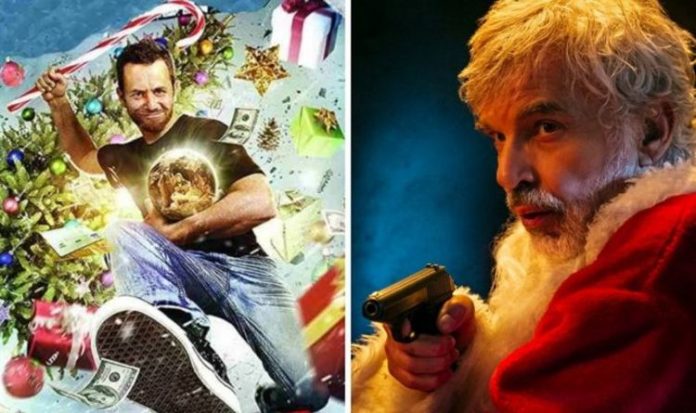 Bad Christmas films seem like a part of the festive season as well-loved as the turkey dinner. Whether it is watching cringe-worthy takes on Christmas classics or some deep and dark tales, a bad Christmas movie is sometimes a bit of an antidote to a saccharine holiday season. So which is the worst Christmas movie ever, and what makes it so terrible?
Bad Christmas films come to us every year, like clockwork.
While festive fans are decorating the tree and listening to Yuletide anthems, there will always be a terrible Christmas movie to bring down the mood.
Sometimes, a terrible film can be quite an enjoyable watch while wrapping presents or peeling potatoes for the roast.
However, sometimes can be a real mood-killer for the festive period.
What is the WORST Christmas movie? Vote now!
READ MORE:  Lego Star Wars Christmas: Will there be a Lego Star Wars movie?
Luxury accommodation provider Nido Student has done their own analysis of data from Rotten Tomatoes, Google Reviews and IMDb to come up with a list of some of the least-liked Christmas movies.
According to the research, Saving Christmas, the 2014 movie starring Kirk Cameron, is the worst festive film ever.
It received a 0 percent rating on Rotten Tomatoes and won the Golden Raspberry for the Worst Picture, along with three other awards in 2015.
The film stars Kirk as a fictionalised version of himself who tries to convince his fictional brother-in-law, played by the film's director Darren Doane, that Christmas is still a Christian holiday.
The movie is not only a comedy but also is supposed to provide educational elements of the true meaning of Christmas, depicting some biblical events throughout the film.
While this topped the list by some way, two Home Alone films also made their way into the worst films list.
Home Alone 4: Taking Back the House, and Home Alone 3 were named the second and eighth-worst Christmas movies.
Neither of these movies featured Macaulay Culkin as the loveable Kevin McAllister or his family, and neither Joe Pesci nor Daniel Stern appeared as the bandits trying to rob his home.
DON'T MISS
Instead, two different boys featured, as well as different thieves, robbers and spies, making them even less plausible than the first two films.
While many of the films on the list are those which few of us have even heard of, others are sequels of British classics.
Coming up in seventh place is Nativity 3: Dude, Where's My Donkey? which stars Martin Clunes, Marc Wootton and Catherine Tate.
In this movie, an Ofsted inspector suffers from amnesia after an unfortunate donkey-related incident and is left trying to remember what Christmas is all about.
This movie got a 16 percent score on Rotten Tomatoes, but despite this, peaked at Number Three in the UK box office, likely due to its reputation from previous films.
The list rounds up at Number 10 with 2006 film Deck the Halls, starring Danny DeVito and Matthew Broderick.
American film critic Richard Roeper, who co-hosted At the Movies, said of the film: "You cannot believe how excruciatingly awful this movie is.
"It is bad in a way that will cause unfortunate viewers to huddle in the lobby afterward, hugging in small groups, consoling one another with the knowledge that it's over, it's over — thank God, it's over…
"Compared to the honest hard labor performed by tens of millions of Americans every day, a film critic's job is like a winning lottery ticket.
"But there IS work involved, and it can be painful — and the next time someone tells me I have the best job in the world, I'm going to grab them by the ear, fourth-grade-teacher-in-1966-style, and drag them to see Deck the Halls."