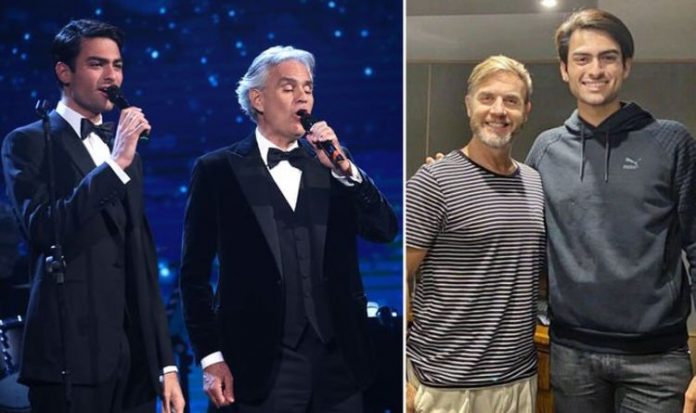 Andrea Bocelli's son Matteo Bocelli is getting ready to release his 2021 debut solo album after duetting with his father over the last few years. Most recently he featured on the new album Disney Goes Classical singing The Lion King's Can You Feel The Love Tonight with The Royal Philharmonic Orchestra. But now he feels it's time to put his own original music out into the world.
Last week, Matteo wrote on social media: "It's been two years since my debut at the most important music festival in Italy.
"I'll never forget the incredible feeling. That moment marked the beginning of an intense creative journey – I can't wait to share my new music with you soon."
While it turns out he teased more of what he's got in store during a YouTube Q&A last summer.
One fan remembered that in October 2019, the young singer posted he had been hanging out with Tate That's Gary Barlow.
READ MORE: Andrea Bocelli leaves Bradley Walsh in tears with emotional surprise
Matteo tweeted a picture with Gary writing: "Such a pleasure to spend some time with the legend Gary Barlow!"
While in the Q&A several months later, he shared: "I worked with Gary Barlow on some music. We created some very good songs and I can't wait to share it."
As for his debut solo album, the 23-year-old said: "We're composing a lot of songs that we hope to share with you very soon. I'm writing a lot of new music. It's a little bit of a surprise I can tell you that."
He shared how he's been working on his debut record since mid-2019 and cannot wait for it to release in 2021.
Matteo said: "And, of course, I was doing school, I didn't have the chance to spend a lot of time with him.
"With Fall On Me, I had the chance to spent a lot of time with him travelling and being on many stages so it's been fantastic."
Andrea's son also went on to speak warming of his solo debut with his cover of Elton John's Can You Feel The Love Tonight.
He said: "Now with this new experience…it's basically the very first solo release in my career. So I'm very excited and, of course, I had the chance to be honoured to sing Elton John's song. It's been very challenging but I hope you appreciate it."
Matteo ended the video smiling, thanking fans for joining the Q&A, and saying: "It's not easy for me to talk in public, I prefer to sing."
His father Andrea told Express.co.uk last year that he and Matteo have been singing in lockdown together.
The 62-year-old tenor, whose new album Believe is out now, said: "[Singing together] happens a lot, yes. Matteo hasn't been with us lately, as he has spent a few weeks working in Australia. He is just back and we're definitely planning to make up for lost time."
Asked if a family album was in the works, Andrea replied: "It's not a consideration at the moment. But… never say never."