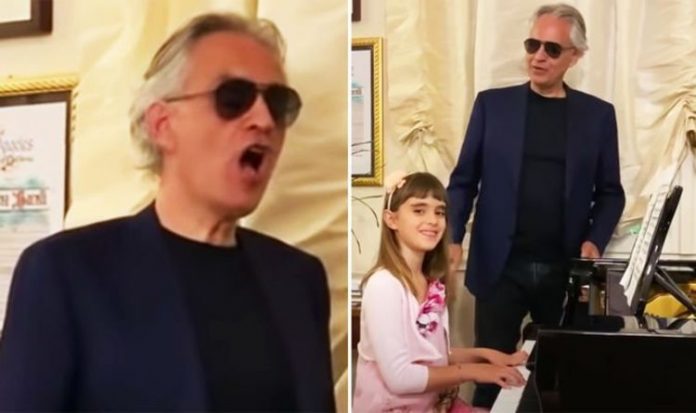 Andrea Bocelli had quite the 2020 last year despite all the difficulties music artists have faced performing. The Italian tenor performed a beautiful live-streamed Easter Sunday concert from Milan's cathedral called Music For Hope, while also releasing his brand new album Believe. Meanwhile, at home his eight-year-old daughter Virginia Bocelli has been practising the piano.
After impressively playing Beethoven's Ich Liebe Dich on the piano, her father Andrea decided to join in on vocals in their first duet together.
He said in a statement: "My friends, this slightly paradoxical situation is forcing us to reinvent ourselves and to get a bit creative.
"As I have always done naturally, and now more than ever, I'm trying to get everyone involved in the family, even little Virginia who recently started piano lessons.
"She made great progress and now she's going to play something with her dad: Ich liebe dich by Ludwig Van Beethoven."
READ MORE: Andrea Bocelli sings Hallelujah duet with daughter Virginia – WATCH
Praising the late great composer, Andrea added: "Thanks to the great Beethoven who, with his setting of an amateur's poem (Karl Friedrich Herrosee), built a mountain out two blades of grass.
"Thanks to Virginia, for all those hours spent at the piano learning what has become 'our song'. Thanks to all of you, for providing such a kind, friendly audience.
"We offer you this piece, this small promise that we have kept, to wish you a May filled with affection, in the hope that it will be a month of rebirth and re-found serenity for all."
The acclaimed singer spoke with Express.co.uk last year following his live-streamed concert duet of Leonard Cohen's Hallelujah with Virginia, who was also singing.
Asked if Virginia has singing lessons at home, Andrea replied: "She didn't take any singing lessons, no. Although, she grew up on a diet of bread and music.
"She has been studying the piano for three years and has been absorbing the art and sounds since she was born.
"Indeed, from her mother's womb, Virginia was able to experience daily studio sessions, plays at the theatre and the recording of Gounod's Romeo et Juliette at the opera."
Her favourite singers include Michael Jackson, Ed Sheeran, Celine Dion and ABBA.