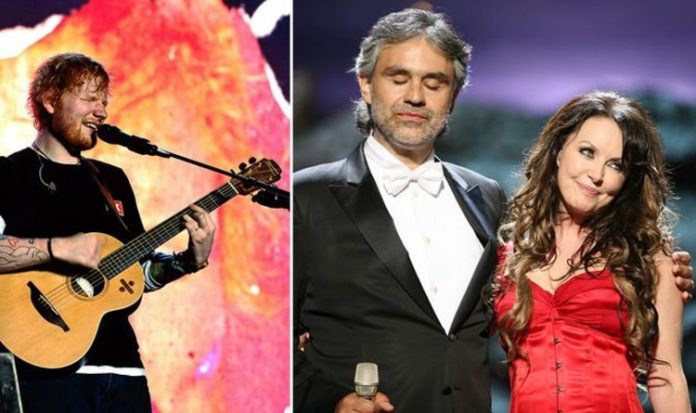 Andrea Bocelli has performed some sensational duets over his impressive career. Most notable has to be the Italian tenor's 1996 hit single Time to Say Goodbye, recorded with Sarah Brightman. While more recently, he duetted in 2017's Perfect Symphony alongside Ed Sheeran.
Now in an exclusive interview with Express.co.uk, Bocelli has expressed how he'd love to team up with both Brightman and Sheeran once again.
The 62-year-old said: "Why not! If there is an opportunity, I'd take it with great pleasure.
"The artists mentioned are two giants of music… The Time to Say Goodbye duet with Sarah made a critical contribution to the international launch of my career.
Time To Say Goodbye famously topped the charts all across Europe and is one of the best-selling singles of all-time with 12 million global sales.
READ MORE: Andrea Bocelli new album announced with UNHEARD Ennio Morricone track
While his duet with Sheeran was one of a couple of versions of the 2017 No 1 single Perfect.
Bocelli said: "More recently, with Ed, we have established a very beautiful and creative collaboration."
Comparing the two, the tenor added: "Those two voices provide two musical worlds very different from one another.
"But both duets triggered a special alchemy that allowed one to enhance the expressive qualities of the other."
What with the on-going pandemic, the tenor recorded the duets with his fellow singers remotely.
Bocelli explained: "In compliance with local health precautions, we opted to record the songs separately: Cecilia in Monte Carlo and Alison in Nashville.
"Of course, before and after, we got together over video calls several times to optimise the recording and sing "together", albeit at a distance!"
On the album as whole, the 62-year-old said: "This is an album I hold very dear to my heart."
Bocelli added: "The fruit of a long internal journey even more so than an external, artistic one.
"It's a project with a purpose to put into words the musical dimension of spirituality by offering music that – at least for our intentions – can bring peace and harmony to those who listen to it."
Andrea Bocelli's Believe is released on Sugar/Decca Records on November 13, 2020.
The single You'll Never Walk Alone is out now and fans can pre-order the brand new album here.