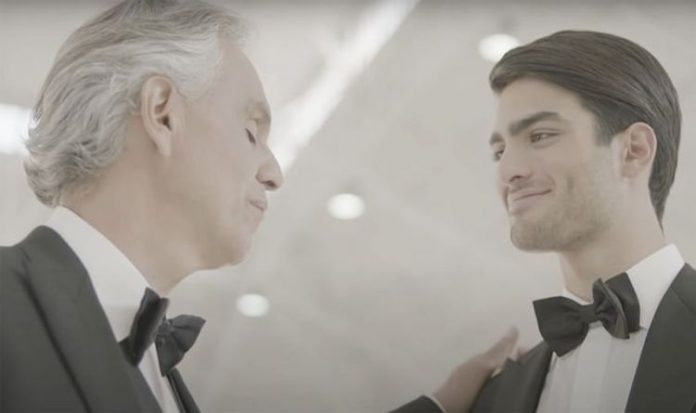 Andrea Bocelli was pleasantly surprised to find out his son Matteo Bocelli could sing and just two years ago they sang their first duet together in Fall On Me. The single, sung partly in English and partly in Italian, is the father and son's tribute to each other and features on Andrea's album recent album Sì. Their stunning music video has amassed over 83 million on YouTube and sees them both playing grand pianos together in black tie.
What's particularly touching about Fall On Me's music video is seeing Andrea's smile the moment his son Matteo starts singing.
While heartfelt family photographs from the 23-year-old's youth with his dad are shared too.
The 62-year-old said of the track: "Anyone who is a parent, anyone who knows the precious responsibility of being a mother or a father, will fully grasp the meaning of this piece.
"Fall On Me is the first time I have duetted with my son Matteo Bocelli."
READ MORE: Andrea Bocelli: Matteo Bocelli sings Freddie Mercury's Love Of My Life
Matteo also sings on Ven a Mi, another track on Andrea's Sì album. While Fall On Me was played in the end credits of Disney's 2018 movie The Nutcracker and The Four Realms.
In December that year, Andrea and Matteo even duetted at the Royal Variety Performance in front of Prince Harry and Meghan Markle.
Since then Matteo has worked with Disney again, singing Elton John's Can You Feel The Love Tonight from The Lion King on the new Disney Goes Classical album.
Now 23-years-old, he's working on his first solo project. Perhaps a solo album?
Asked if a family album was in the works, Andrea replied: "It's not a consideration at the moment. But… never say never."
Meanwhile, his eight-year-old daughter has begun singing with her father.
The pair performed a beautiful rendition of Leonard Cohen's Hallelujah during the Believe in Christmas concert at the Teatro Regio di Parma on December 12.
Speaking of their duet, the Italian tenor said: "It was a true Christmas present that Virginia gifted to me. It was very emotional but there was no apprehension: I focused on the beauty and intimacy and I tried to convey the serenity, encouragement and reassurance to Virginia."
Andrea continued: "We sat on stage with only a guitar, the silence and her voice intertwining with mine. It was beautiful and simple. It was a very special moment, one to savour and remember always."
Asked whose idea the duet was, he said: "The initial idea was born from a bit of fun, and then it came to the concert and the song itself with Virginia was featured in the setlist.
"Franco Dragone, the director of the live stream, insisted that it be included in the show and judging by the results he was right in entrusting her with such an important part.
"Although Virginia, was practically born and raised on stage and behind the scenes, this was her official debut."