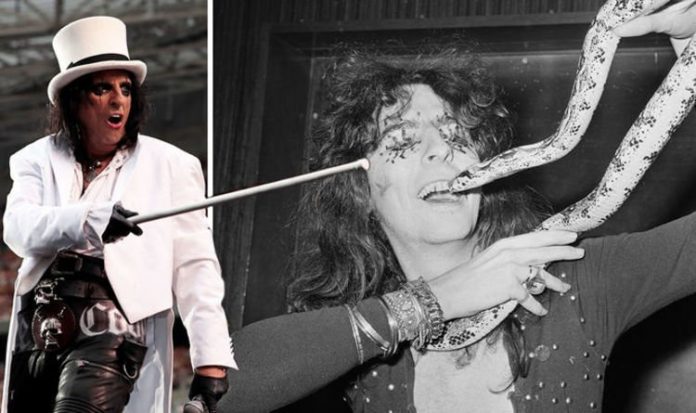 Alice Cooper is as well known for his horror-inflected performance style as he is his rock music. The rockstar uses the horror genre to his advantage in a big way, always covered in black make-up and wearing grunge leather clothing. But how old is the rocker now, and how long has he been performing?
How old is Alice Cooper?
Alice Cooper was born Vincent Damon Furnier on February 4, 1948, meaning he is 73-years-old.
Despite reaching beyond his 70s, he is still out there performing and recording new music.
In fact, his 21st solo album, Detroit Stories, is to be released on February 26, 2021, showing he has no plans to slow down.
Usually, artists head out on tour to promote new albums, so it may be the septuagenarian will be going back out on stage and rocking like never before.
READ MORE:  Liberace death: How did Liberace die? What was he most famous for?
How long has Alice Cooper been performing?
Alice dreamed of becoming a singer and performing even as a child, and that suddenly came to fruition in the late 1960s.
By the age of 16 he had started to bring bands together, performing parodies of The Beatles, though none of these were serious beginnings in the music business.
As time went on, however, he formed Nazz in 1967, which was to be one of his first proper attempts at making it in the industry.
However, Todd Rundgren, also a famous rockstar, started a band of the same name so Alice came up with a new name to avoid any legal complications.
At this time, Alice was performing with his real name, but it was this which sparked his desire to change things up, naming the band after himself.
Speaking in 2007, he told Wenn: "That was one of the brilliant moments of my life. At this point, Alice Cooper is woven into Americana.
"My mum's the only one to still call me Vince. She says, 'Hey, superstar, take out the trash.'"
DON'T MISS
He decided to change his name legally to Alice Cooper in 1968, with the name working in contrast to the band's more ghostly and dark themes.
He began performing with this in mind, trying to base his look on some deathly themes.
In the early days, Alice would perform wearing tattered women's clothes, putting out the image of a dastardly killer.
One story which has now become urban legend said Alice's name came from a session on a ouija board, which he has debunked, but it only added to the way they were marketing themselves.
The band's breakthrough album, Love It to Death, came out in 1970, and after this came some of their most classic songs, including School's Out in 1972 and Billion Dollar Babies, before Alice became a solo artist from 1975.
In the 1980s, personal struggles with alcoholism saw Alice have a decline in his output until the later years in the decade, since which Alice has continued to write music and go on tour.
He has also appeared in movies in cameos as well as in full roles, and various MPs and political figures have attempted to ban his music over the years.
All of these have only added to the allure for fans, who are likely still keen to see what the rockstar has planned with his 21st album.