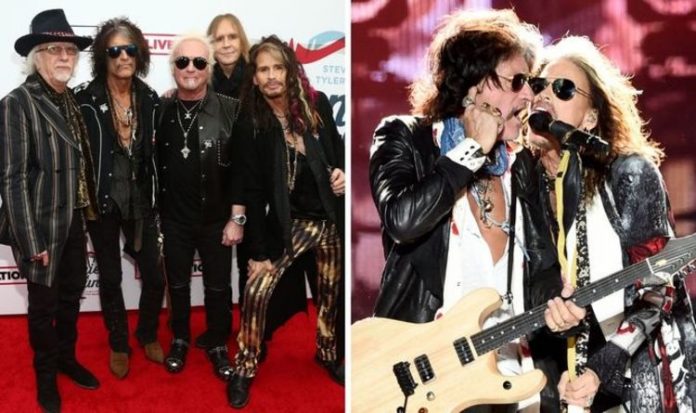 Aerosmith is known for its rock ballads and 1970s rock classics. While the band has been a huge success, the members have also tried their hand at solo work, producing albums and EPs to differing levels of success.
How many albums has Aerosmith released?
When it comes to studio albums, Aerosmith has made 15 records, spanning from their first self-titled album in 1973 to their most recent work, Music from Another Dimension!, which was released in 2012.
The band has also released six live albums, which is where the magic really happens and their performance style comes across.
All but two of their albums have received at least platinum status in the USA, their home country.
READ MORE:  Ringo Starr illness: Why The Beatles star spent a year in hospital
Their first album was double platinum, which is a huge achievement for a debut.
However, things only got better with their following five albums all achieved at least platinum status.
Get Your Wings (1974), Toys in the Attic (1975), Rocks (1976) and Draw the Line (1977) were hugely successful, especially Toys in the Attic.
This album contained tracks like Walk This Way, which later saw them return to their height of fame when it was remixed by Run DMC.
Sweet Emotion was also on this album, which is considered one of their strongest ballads.
After their sixth album Night in the Ruts, released in 1979, Aerosmith released two albums which failed to meet the high standards they had set.
Sadly, these albums only got a gold standard in the USA, until Permanent Vacation was released in 1987 and included one of their biggest hits, Dude (Looks Like a Lady).
Their best-selling album, Get a Grip, was released in 1993 and included the ballad Cryin', and sold more than 20 million copies worldwide.
As well as this, two songs from the album won the Grammy Award for Best Rock Performance by a Duo or Group with Vocal, in subsequent years.
DON'T MISS
Arguably their most famous song, I Don't Want to Miss A Thing, was not included on any of their studio albums, and instead appeared on the soundtrack for Armageddon, which starred Steven Tyler's daughter Liv.
Steven has released one studio album of his own, We're All Somebody from Somewhere, which was co-produced by T. Bone Burnett.
Joe Perry, the Aerosmith guitarist, has made plenty of music of his own, either with side projects or as a solo artist.
He has written and performed four solo albums, including a Christmas album, plus various work with his different music projects.
These have included The Joe Perry Project and the Hollywood Vampires.