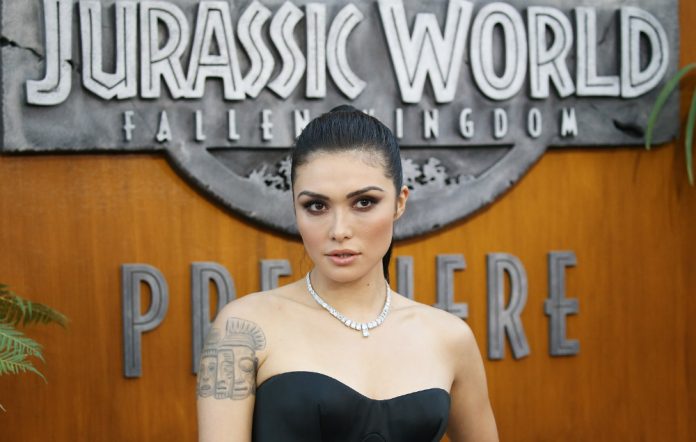 [ad_1]

Daniella Penida says the scene was cut as it "wasn't relevant to the story".
'Jurassic World: Fallen Kingdom' actress Daniella Penida has revealed that a scene showing the sexual orientation of her character was cut from the film.
Pineda plays paleo-veterinarian Dr. Zia Rodriguez, who's lesbian. A brief scene which reveals this was cut from the film "for the sake of time" as it "wasn't relevant to the story".
The scene was originally put in by writer Colin Trevorrow and director JA Bayona but was taken out when the original cut of two hours 40 minutes was too long (it was later cut down to two hours six minutes).
"[In the scene] I look at Chris and I'm like: 'Yeah, square jaw, good bone structure, tall, muscles,'" Pineda tells Yahoo.
"'I don't date men, but if I did, it would be you. It would gross me out, but I'd do it.' I love that I'm looking at Chris Pratt, the hottest guy in the world, and I'm like, 'It would gross me out, but I guess I would do it!'
"It was also cool, because it was a little insight into my character. But they cut it."
While it may not be a pivotal plot point, fans argued that it would have added to LGBTQ representation in cinema.
"I'd like to see more of that," the actress tells Yahoo, speaking about gay characters in films. "Especially in big-ass movies!"
In 2017, it was announced that the live-action remake of 'Beauty and the Beast' would feature Disney's first openly gay character, with a "nice, exclusively gay moment" but this turned out to be a 'blink and you'll miss it' moment of two two male characters dancing at the end of the film.
Even so, this caused controversy enough, with Disney refusing to pander to a request from Malaysia's Film Censorship Board to cut the so-called "gay moment".
The creator of 'Frozen' has also revealed that she'd be open to the character of Elsa being openly gay in the sequel, after fans petitioned for Elsa to get a girlfriend.
[ad_2]