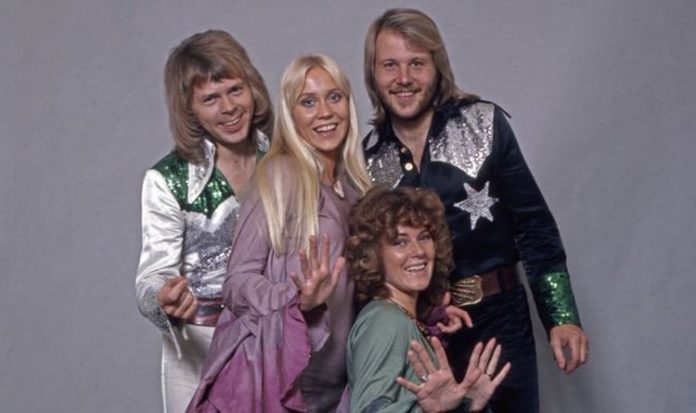 ABBA were made up of two couples whose music was catchy and fun. It helped define the 1970s, when they were most active, especially the disco scene. Their first hit was at Eurovision – Waterloo – and the story behind the song is incredibly intriguing, like the people who sang it.
As with most of the songs by ABBA, the men in the group were behind much of the songwriting.
Björn Ulvaeus and Benny Andersson, alongside their manager Stig Anderson, wrote much of the music for the band, and this was the first one to make them big.
Before the song came about, Björn and Benny had been asked to write songs for Sweden's pre-selection contest, Melodifestivalen, for different performers.
They put two songs forward before their 1971 effort, Säg det med en sång, was finally sung by newcomer Lena Anderson, who finished third.
READ MORE:  Fleetwood Mac Rumours: How divorce and drama was behind the album
After that, ABBA tried to enter the Eurovision Song Contest, taking part in Melodifestivalen 1973 with their song, Ring Ring.
Sadly, this did not make the cut, but they came back swinging with their 1974 song, Waterloo.
They were invited to submit the song in late 1973, and they won their national heats in Sweden before heading to the Eurovision Song Contest.
On April 6, 1974, they won the Eurovision Song Contest at The Dome in Brighton, and won by a relative landslide.
The song saw them soar to the top of the charts in the UK, where they stayed for two weeks.
They also topped the charts all over Europe, of course in their native Sweden, but also in Ireland, Norway, Switzerland and Spain, among other countries.
But Waterloo had not only conquered Europe, but also appeared in the Top 10 in Australia, Canada and the USA, and topped the charts in South Africa.
The meaning of the song, as many can imagine, references the Battle of Waterloo and Napoleon's surrender there in 1815.
DON'T MISS
The battle also brought about the end of the Napoleonic Wars, but the song is not specifically meant to be a history lesson.
Instead, the song was used as a metaphor for a woman's love for a man, where she must surrender to be with him and promises to love him.
Some reports have suggested the song was originally called Honey Pie, which has the same number of syllables as Waterloo, however the story of the battle fits so well within the lyrics, it was deemed this was better.
To the present day, the single has sold nearly six million copies, which means it is one of the best-selling singles in history.
After this, ABBA continued to have huge success, scoring nine Number One singles in the UK, and it was all thanks to Waterloo.