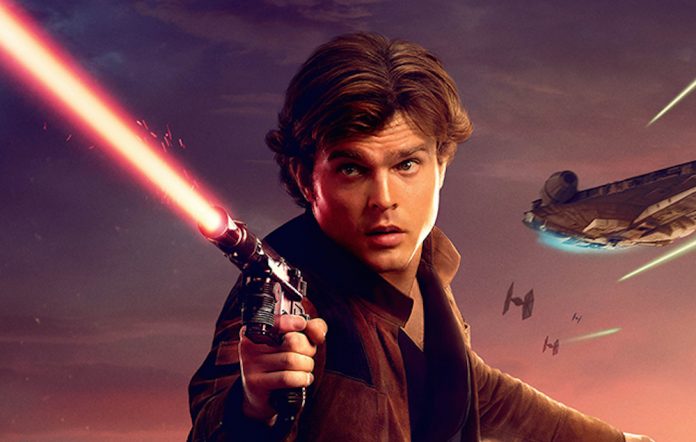 [ad_1]

Spoilers for all Star Wars films below
It's rare to see the word Star Wars and 'flop "in the same sentence. Usually, any release that involves some lightsaber battles, sarcastic droids and a baddie in a helmet shoots straight to the top of the box office. Hell, after the Marvel films, it's the second highest grossing film franchise of all time. The last three entries, The Force Awakens, Rogue One and The Last Jedi all rank among the most successful films of the last half decade. But the Han Solo prequel flick, Solo? Not so much.
Yesterday, it was announced as the first Star Wars film to officially "flop" as its 10 day opening gross performed massively under expectation, despite positive reviews from critics. But why has one of cinema's most bulletproof franchises lost the pull it once had? 
People don't care enough about Han Solo
This is the first standalone spin-off film for any character in the Star Wars canon and Disney/Lucasfilm perhaps didn't pick the right one. Put simply, Han Solo is kind of a dick. In the original trilogy he's an arrogant scallywag who makes the occasional reluctant sacrifice for the cause of the rebels. In The Force Awakens his selfless side properly rears its head – and gets him killed.
Han's backstory as a hustler gadding about the galaxy is hinted at several times, but actually sitting through that is perhaps not what audiences want from a Star Wars film in 2018. We've been given new, compelling characters in the shape of Rey, Finn and Kylo Ren, so a nostalgia trip to discover Han Solo's origins is going prove difficult to entice viewers who didn't grow up with the cult of Han Solo. If they wanted to focus on a character from the original trilogy, the fan-favourite bounty hunter Boba Fett – whose backstory is less well fleshed-out – may have been a riskier but more rewarding option; instead, that's the second standalone character film, slated for a 2020 release.
Harrison Ford Shrug GIF by Star Wars – Find & Share on GIPHY

Discover & share this Star Wars GIF with everyone you know. GIPHY is how you search, share, discover, and create GIFs.
There were serious production issues
The issues on set for Solo were well documented. In July 2015, it was announced that Phil Lord and Christopher Miller – whose credits include 21 Jump Street, The Lego Movie and Cloudy With A Chance Of Meatballs – would be directing the film. Filming began in January 2017, but by June of that year it was reported that the pair had been fired by Disney and LucasFilm for deviating from the script and attempting to turn the film into a comedy caper. At this point, reportedly over three-quarters of the film had been shot – so new director Ron Howard was forced to reshoot much of the film. That's going to cost big bucks, obvs.
By the time the film was released, the budget had swollen to a reported $250 million, a similar figure to The Last Jedi's production costs. This is eating into the film's profits and makes going up against huge blockbusters like Avengers: Infinity War and Deadpool 2 just that much difficult.
This also meant that there was serious bad press before the film had even been finished. Fans were skeptical at the decision to remove Lord and Miller and opt for a safe pair of hands in Howard. For the average viewer, it set alarm bells ringing that it might be a Not Very Good film, at all.
It's not the Han Solo we know
Han Solo is Harrison Ford. Except in Solo, he's relative newcomer Alden Ehrenreich, meaning it's a familiar character in unfamiliar skin. Early reports that Ehrenreich was receiving acting lessons as LucasFilm were not satisfied with his performance didn't reassure fans that this was a Han they could get behind. In fact, viewers and critics have reported positively to Ehrenreich's performance, as well as Donald Glover's as Lando Calrissian and Emilia Clarke as new character Qi'Ra – but the bad press no doubt sapped the enthusiasm out of casual cinema goers.
There's viewer fatigue
If you can keep track of how many Star Wars-related films or series are coming up, you've earned the right to be in one, we reckon. Since the franchise's return in 2015, we've had a new flick every year. In 2019, the last in the Skywalker trilogy (The Force Awakens, The Last Jedi) will be released and 2020 see that Boba Fett film. Worth baring in mind that Boba appears on screen for less than 10 minutes in the original trio. Talk about niche appeal.
But there's more. Last year, it was announced that Rian Johnson would be making a new trilogy of Star Wars films that are unrelated to Luke Skywalker. This in addition to a new series of films, unrelated to the aforementioned, by Game of Thrones showrunners David Benioff and D.B. Weiss. Basically there's going to be one every year until you die. Outside of the dedicated fan base, it's hard to imagine regular cinema-goers feeling the enthusiasm to set sail on a new Star Wars trilogy. The underwhelming Solo opening numbers are surely proof of that.
It was released at the wrong time
Disney executives have already admitted that launching Solo just four weeks after the biggest film of the year Avengers: Infitinity War probably wasn't a great idea. "There's a question of frequency, and how many times people will go to the movies. Is this too much and too soon for a third time in a five-week period?" Disney chief Dave Hollis told Hollywood Reporter. Perhaps there was a bigger crossover between Avengers: Infinity War and Solo cinema-goers than anticipated that impacted fans willingness to shell out again for more tickets.
People didn't like The Last Jedi as much as the critics
Maybe, the apathy just because the response from The Last Jedi did not get a great response from fans. Critics' loved it but the deviation from fan reviews was stark. Some said that it "ruined 30 years of cinema love" and there was even a petition from fans for it to be "deleted and remade". These are, of course, very very silly over exaggerations, but even the average fan felt disappointed by the film's apparent conclusion of the Luke Skywalker narrative.
This does pose the question – will the negative press around Solo have a knock on effect on the future films? Almost certainly. Speaking to the Hollywood Reporter, insiders suggest that Disney may adjust projected release dates to ensure that two Star Wars films aren't released so close together in future. On June 20, it was reported that the standalone Boba Fett film and all other spin-offs have been "put on hold" as they focus on Episode XI. 
This article was updated on June 21
[ad_2]