[ad_1]

"It's less about the monetization and more about telling great stories."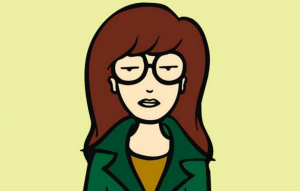 MTV has announced plans to revive the cult 90s animated series Daria.
Although rebranded as Daria and Jodie, the show will still follow the adventures of the misanthropic teenager – but with greater focus on close friend Daria Landon.
The revival will be written by Unbreakable Kimmy Schmidt scribe Grace Edwards, and is set to offer a unique perspective on "deconstructing popular culture, social classes, gender and race."
MTV Network president Chris McCarthy said: "We have talked to a bunch of people, informally, in advance of it and there's a ton of interest.
"It's less about the monetization and more about telling great stories."
McCarthy also hinted that the show might not necessarily air on MTV – a Netflix streaming deal could be on the cards too.
Daria first aired in 1997 as a spinoff of Beavis and Butt-Head and followed Daria Morgendorffer through her teenage years.
It lasted five seasons with a total of 70 episodes, which includes one unaired pilot, and two television movies and two specials.
Earlier this year, MTV was also forced to confirm that it has axed the reboot of iconic music show Total Request Live just five months after it launched.
It was re-launched by the channel in October 2017, and has been met with poor reviews and ratings ever since.
The post MTV is bringing back 'Daria' appeared first on NME.
[ad_2]