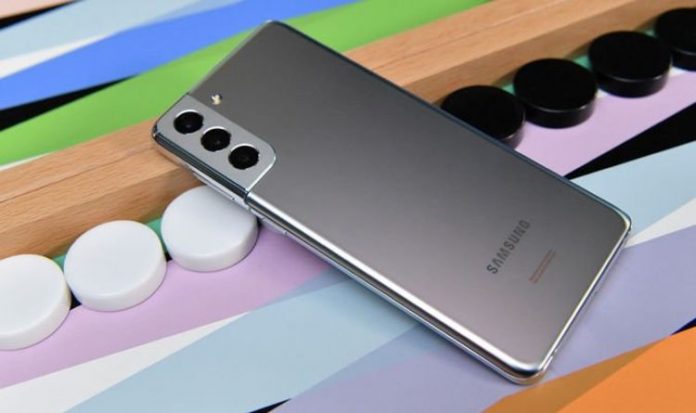 After much speculation and plenty of revealing leaks, last Thursday saw the S21 range officially unveiled for the very first time. The Galaxy S21, S21+ and S21 Ultra debuted ahead of the Samsung flagships' fast approaching release date of January 29. But it looks like the Seoul-based smartphone giant may have kept one model in their back pocket.
As reported by GSMArena, it looks like another unannounced S21 model has just been unearthed.
The Samsung Australia website let slip that a Phantom Green Galaxy S21+ – which is yet to be revealed – is coming.
The website says the Phantom Green S21+ is one of the devices that will offer pre-order bonuses.
So if that's the case then it would have to be announced before the S21 release date next week.
READ MORE: New Samsung Galaxy A Series rivals OnePlus and Motorola with cheap 5G
Official pictures of the S21+ Phantom Green have yet to be revealed.
However LetsGoDigital has created renders of what the S21+ could look like in this colour scheme, and the results are striking.
The Galaxy S21+ and S21 Ultra are available in a number of exclusive colours when you order from the Samsung Store.
Besides the main silver, black and violet colour schemes the S21+ is also available in Phantom Gold and Phantom Red.
While Phantom Titanium, Phantom Navy and Phantom Brown are the exclusive Samsung.com colours for the S21 Ultra.
The S21, unfortunately, doesn't come with any exclusive Samsung Store colours. But all three devices come with a free gift when you preorder.
DON'T MISS: Samsung's new 4K TVs will offer the ultimate PS5 and Xbox experience
Those who pre-order either the Galaxy S21 or Galaxy S21+ will get a free pair of Galaxy Buds Live, while those who get the S21 Ultra from the Samsung Store will get a set of Galaxy Buds Pro.
Samsung.com is also offering a Galaxy SmartTag – which helps you make sure you don't lose anything precious – with pre-orders of any of the S21 range as well.
The gift that comes with the S21 and S21+ is worth over £200, while the S21 Ultra gift is worth almost £250 in total.
Prices for the Galaxy S21 range begin at £769, going all the way up to £1,329 for the top of the range S21 Ultra.
But this top tier price may be worth it for many thanks to a new feature Samsung has added.
The S21 Ultra is the first Galaxy S device to ever support the S Pen, the stylus that is typically found on the Note range.
The S21 and S21+ don't support the S Pen, so you'll have to fork out extra for an S21 Ultra if you really want to use it.
Thankfully though it won't cost too much to pick up an S Pen, as the accessory is priced at just £34.