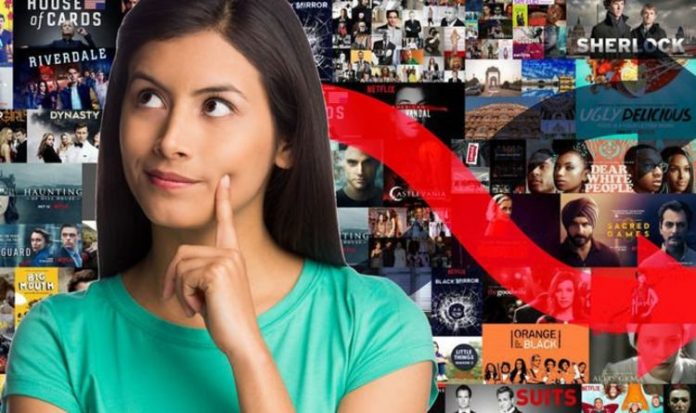 The streaming giant has revealed that they will be rolling out a new Shuffle Play button across the globe in the coming months. Express.co.uk previously reported on this feature last summer, when testing began on it back during August. And after being put through its paces the new Netflix upgrade is getting rolled out worldwide in 2021.
Netflix announced the upcoming Shuffle Play feature in their recent Q4 2020 earnings report.
In the report, Netflix briefly mentioned a test of a new feature that "gives members the ability to choose to instantly watch a title chosen just for them versus browse".
The streaming giant added that this feature would be available to users at some point in the first half of the year.
Netflix later confirmed to TechCrunch that this test refers to the Shuffle Play feature.
READ MORE: The best way to watch Netflix could soon be with your Apple AirPods
However, they added that the actual name of the new functionality is still being finalised.
Netflix also added that the feature is only being tested for TVs, not other platforms like mobile apps or web browsers.
It remains to be seen whether Netflix significantly changes the feature when it gets rolled out generally later this year.
But in testing Shuffle Play was easy to access, with a big button on the home screen for it.
When users click on it Netflix will randomly play something it thinks you will like based on personalised algorithms.
You could see a movie you've already started begin streaming, or a boxset on your watch list or maybe something similar to what you've watched previously.
READ MORE: Sky now includes Disney+ on Sky Q and NOW TV, but one is at a disadvantage
The Shuffle Play option has already begun appearing on some Netflix subscribers' TV app.
When selected Netflix users are greeted with a screen which says: "Not Sure What to Watch?
"Try Shuffle Play. We'll shuffle everything on Netflix and find things for you to watch based on your tastes."
In other Netflix news, the start of 2021 has also seen the price of a Netflix subscription rise in the UK.
The Standard plan, which offers HD streaming for multiple devices, has seen its monthly prise rise from £8.99 to £9.99.
While the Premium plan, which offers 4K streaming, has seen its price rise from £11.99 to £13.99. The Basic plans which doesn't offer HD streaming has not got a price rise, remaining at £5.99 a month.
In a message on its site Netflix said these price rises are for new members, but gradually will impact all current members too.
Netflix said: "These prices apply for new members and will gradually take effect for all current members. Current members will be notified by email 30 days before their price change takes effect."
In a statement, Netflix added the price rise reflects the amount the company is spending on content.
Netflix has a never-ending stream of Original content that they keep pushing out such as the recently released Bridgerton.
And the streaming giant has tonnes of other Originals in the works, including the next project from Game of Thrones showrunners David Benioff and D.B. Weiss.
Netflix added: "This year we're spending over $1bn [£736m] in the UK on new, locally-made films, series and documentaries, helping to create thousands of jobs and showcasing British storytelling at its best – with everything from The Crown, to Sex Education and Top Boy, plus many, many more.
"Our price change reflects the significant investments we've made in new TV shows and films, as well as improvements to our product."