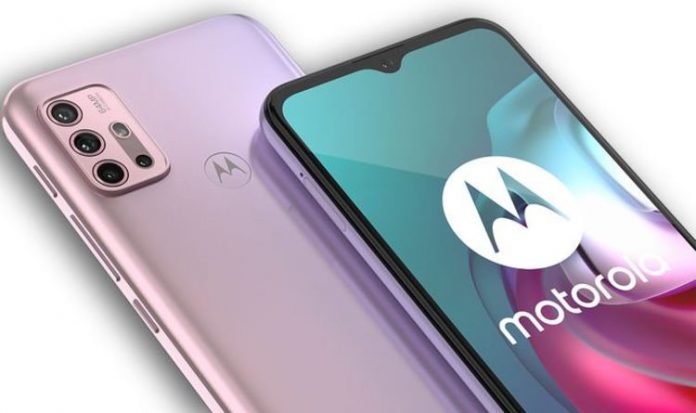 Motorola is no stranger to releasing feature-packed smartphones with ludicrously-low price tags and now the technology company is back with even more budget call makers. The new moto G30 and G10 have been revealed and offer some pretty impressive specs at a price you may find hard to believe.
For just £159 you can take delivery of the all-new Motorola G30, which features a speedy Qualcomm Snapdragon processor and huge 5,000 mAh that not only brings two days of power but can be refilled with up to 12 hours of power with 20 minutes plugged into the mains. For your nightly Netflix binge, there's an impressive 6.5-inch Max Vision HD+ display which is not only bright and colourful but also features a fast 90Hz refresh rate for silky smooth scrolling.
That technology is something you'd usually find on flagship phones costing at least twice the price of the G30.
Spin this phone around and there's a quad-camera system with ultra-wide angle lens and Macro Vision for better close-ups. Motorola is also boasting that its camera can shoot clearer pictures at night, thanks to its Night Vision mode.
READ MORE: Android users warned as Google Play Store app infects 10million devices
Other extras worth a mention include a generous 128GB built-in storage which can be boosted to 512GB thanks to a microSD card slot plus its IP52, water repellent design and will come pre-installed with Android 11.
If any of those specs have you got you excited then the G30 will be available soon in Aurora Grey and Sakura Pearl with prices starting from £159.
If that sounds a little pricey then the new Moto G10 offers even more value for money. This £129 phone also comes packed with a quad-camera system which includes an ultra-wide angle lens, Macro Vision camera, and depth sensor for striking portrait shots.
This 48-megapixel rear snapper isn't quite as pixel-packed as the 64-megapixel lens found on the G30 but you still get the option to shoot images in low light thanks to that Night Vision mode.
Along with the impressive camera, there's also a 6.5-inch Max Vision HD+ display, 5,000mAh battery and 64GB of storage. Unlike the G30 the G10 doesn't get that speedy refilling or 90Hz refresh rate but you can boost the memory up to 512 GB available through a microSD card.
Other extras include a Qualcomm Snapdragon 460 processor and 4GB of the latest generation RAM. The G10 comes in Aurora Grey and Sakura Pearl. It will be available at stores including Tesco, Amazon and Argos.
Speaking about the phones Motorola said: "In this rapidly changing world Motorola continues to transform technology and push industry boundaries. Today it enters a new era in its moto g family – announcing two new smartphones embodying the company's mission to bring exceptional value and premium features to the mid-tier, offering elevated experiences like outstanding camera systems and stellar performance right to your fingertips."