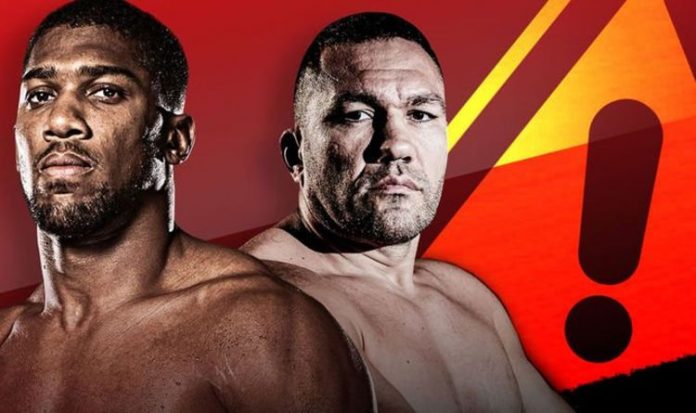 One of the biggest bouts of the year is taking place tonight with Anthony Joshua taking on Kubrat Pulev at the Wembley Arena in front of 1,000 lucky fans. It's set to be another classic clash with Joshua looking to add another win to his list after his comeback against Andy Ruiz Jr last December. With so much excitement surrounding the fight, and a limited number of people able to attend due to current health restrictions fans will be desperately looking for ways of tuning in, and not all of them will be legal.
Sky Sports Box Office is broadcasting the fight live in the UK at a price of £24.95 – that's not exactly cheap and the high cost may tempt some to opt for free streams which will no doubt be popping up across the web.
The promise of watching without paying that £25 fee is clearly enticing but it does come with some serious risks.
The Police and FACT are both warning about the dangers of opting for free illegal streams which can leave consumers open to attack from hackers, facing large legal fees and even the threat of a jail term.
Consumers need to be aware that when clicking on illegal links, criminals can be gaining access to your personal and financial data, which then can be used to set up other fraudulent websites in your name, as well as putting malware on your device.
It's also worth remembering that 30,000 illegal streams were removed from social media platforms during Anthony Joshua's last fight against Andy Ruiz Jr.
This means the boxing action can suddenly be cut off mid-fight leaving fans scrambling to find another free streaming and possibly missing that knockout blow.
"Many of us wait years to watch a high-profile boxing fight and this year, with only limited fans allowed in the stadium, more people than ever will be watching from the comfort of their own home," said Detective Chief Inspector Nick Court of the City of London Police's Intellectual Property Crime Unit.
"We are urging fans this year to ask themselves if the risk of watching an illegal link is worth it.
"Not only is it illegal to stream matches without paying for them, but it's also unreliable and risky. You never know what malware is in the stream you are using and what damage it is doing to your device.
"Remember – watch it live, watch it legally, and don't let your eagerness to tune in make you commit a crime."
Along with that police warning, FACT has also issued an alert that reminds those who stream illegally that they could end up in jail.
"If you are accessing the fight by avoiding the official provider, whether it's a re-stream on social media, a piracy site, or using a device, box or stick connected to your TV, this is illegal," said CEO of FACT, Kieron Sharp said:
"Consuming content illegally is a crime which carries a maximum sentence of up to five years' imprisonment and consequently results in a criminal record."
If you think these are idol threats then think again.
Back in 2017, a fan from Bristol was ordered to pay legal costs of over £16,000 and to disclose details about the money he'd made and people he colluded with for re-streaming Sky Sports content online illegally.
More recently, avid fan Nathaniel Kirk almost fell foul of a huge legal bill after he decided to stream the Whyte v Povetkin online.
Before he knew it, an activity that was meant to be a laugh with some friends had soon escalated, with almost seven thousand people viewing his stream. His access to the fight was shut down and just days later he faced the realisation that a spur of the moment act had left him with the frightening prospect of legal proceedings
"I had no idea I was infringing copyright at the time, I just didn't think," said Kirk.
"It was a mindless, spur of the moment idea that I thought would be some fun. I'm a huge boxing fan and I hadn't considered that what I was doing might be infringing copyright or a crime. Because it was on Facebook it didn't feel illegal and I really didn't think it would reach that many people.
"I want others to learn from my mistake so they don't find themselves in the position I have. I'll leave the commentary to the pundits from now.
"I've learnt a lot about illegal streaming in the last few months and I've warned friends and family to be careful about what they watch online. I don't want people to make the same mistake I did, so to anyone looking to share or stream illegal content I would say it really isn't worth the risk!"