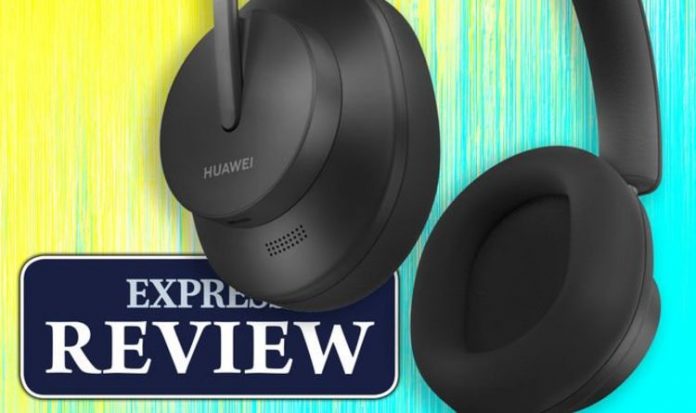 Huawei might be famed for its feature-packed smartphones but now the Chinese firm is taking a shot at something totally different. Huawei recently announced the launch of its new Freebuds Studio wireless headphones which are going head-to-head with some pretty tough competition. Sony and Bose both rule the roost in this market with the WH-1000XM4s and Nose Cancelling 700s regarded as two of the best headphones money can buy.
To make things even harder for Huawei, Sony and Bose are about to be joined by Apple who recently confirmed the launch of its ultra-premium AirPods Max. So can really Huawei really compete in this highly competitive market and should you spend your hard-earned cash on the Freebuds Studio or opt something else?
Express.co.uk has been enjoying some top tunes and favourite playlists for the past few weeks and here are our thoughts on these latest music makers.
Huawei might be new to this wireless headphone market but they've certainly made an instant impression. Straight out of the box the Freebuds Studio feel exquisitely made with a style that's not too dissimilar to the Bose's brilliant NC 700s.
Huawei has used some premium materials to create these cans and there's no question that they should survive many years squeezed inside your rucksack – something that's helped by the tough case that's bundled with the headphones. Place them on your ears and the good impressions continue with the Freebuds Studio feeling as comfy to wear as your favourite pair of slippers.
READ MORE: HomePod mini review: Apple's new speaker is smaller, smarter and much cheaper
Huawei made big claims about the "super-soft" fit when they revealed the Freebuds Studio back in October and they have every right to boast as these are some of the most snug headphones we've worn in a while. Of course, being comfortable is important if you're wearing them all day long but what's more vital is how they sound.
Once again we have few complaints about the audio quality with plenty of bass and a decent level of clarity meaning you get punchy playback whilst still hearing all the vocals and each note from the track.
Things also aren't distorted when pumping them up to the max.
If we were being really picky, we'd say the sound isn't as refined as Sony's award-winning WH-1000XM4s or the Bose 700s but we're talking small differences that most people probably won't notice.
As with most cans in this premium end of the market, the Freebuds Studio pack some clever noise-cancelling tech inside the over-ear cups.
We've been testing them during this long period of lockdown so it's been tough to see how they'll work when on a packed London tube or busy coffee shop but they certainly appear to offer a decent level of sound blocking. If you do want to hear the world around you then the ANC can be switched off or placed into an "Awareness Mode" which lets some background audio pierce through the music – that should make sure you don't miss that last call for your flight. There's even the option for it to automatically adjust in different environments.
Along with that all-important active noise-cancelling, the headphones feature a decent 24-hour battery life which is really good but can't quite match the 30 hours that Sony promises.
Luckily, when things do run low you can pump 8 hours of life back into them with just a 10-minute charge.
There are also full and intuitive swipe controls on the side of the headphones which can pump up the volume or skip tracks without needing to reach for your phone. All the usual voice assistants are also compatible.
So that's everything that is good about the Freebuds Studio but what about the not so good?
There are a few niggles with these Hauwei cans including the fact that there's no dedicated app.
Sony's WH-1000XM4 headphones come with a comprehensive application which lets you tweak all manner of settings and control which devices you want them connected to.
There's nothing similar from Huawei and you also only get the simple "Fast Pairing" option – which instantly connects them to your phone – if you own a recent Huawei device such as the P40 Pro.
Another annoyance is there's no 3.5mm headphone port which means you won't be able to plug them into the inflight entertainment on your next long-haul journey.
As we mentioned earlier, the battery life can't quite match its rivals and, at launch, they were pretty pricey with owners expected to stump up almost £300 to grab a pair.
Luckily, Huawei may have seen the error of its ways with most stores reducing the Freebuds Studio to around £230 which makes them over £100 cheaper than the WH-1000XM4s.
HUAWEI FREEBUDS STUDIO FINAL VERDICT
The Freebuds Studio wireless headphones have certainly surprised us.
They look great, offer a superb build quality and a sound quality that's up there with its rivals. The noise cancellation works well and the battery life will keep the tunes playing all day without needing a charge.
It's a shame Huawei didn't include a 3.5mm headphone port for a wired connection and the fact there's no dedicated app does mean you can't adjust the settings or fine-tune the sound to your liking.
At launch, they cost £299 which is simply way too much for these headphones but now the price has dropped by £70 they really do offer some seriously good value for money.
If you want to play it safe and have £349 in your bank account then we'd still recommend Sony's WH-1000XM4 as these continue to be the best cans on the market.
But if you fancy giving something new a try then the Freebuds Studio wireless headphones are really good start from Huawei and that's something its rivals probably don't want to hear.