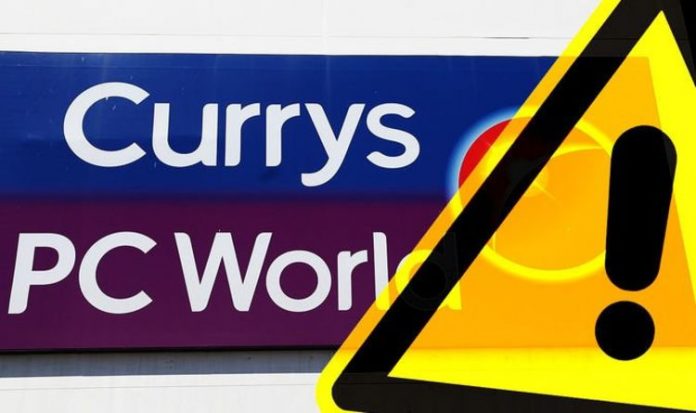 CURRYS DOWN – UPDATE ONE: The maintenance period that was carried out on the Currys PC World website has now finished, but now bargain hunters need to enter a queue to access the retailer's Black Friday deals.
When you visit the Currys PC World website now you'll be greeted with a queue screen, showing where you are in the queue and how long you'll have to wait to get into the Currys website.
The Currys queue screen says: "Huge demand has meant we need to place you in a short queue."
ORIGINAL: Currys down reports are on the rise, with the official online store for the UK retail giant going down on Black Friday.
At the time of writing, when you head to the Currys PC World website you'll see a message saying the site has gone down "for maintenance".
The latest Currys PC World website issues come after earlier this week the Currys site went down when new Xbox Series X stock become available to buy.
As the Currys down issues hit the @TeamKnowHowUK Twitter account was busy responding to customers affected by the outage.
Replying to one the help page said: "Our website is currently down at the moment, but we are working hard to get this back up and running."
As the latest Currys website troubles hit independent outage monitor Down Detector registered a spike in Currys down reports.
Out of those affected, some 63 percent are experiencing trouble with the Currys website while others are having problems with checkout and login.
As the Currys website problems hit users took to social networking site Twitter to report issues with it.
One tweeted: "Currys currently down".
And another posted: "Currys website down for maintenance".
While others have been left hoping the Currys maintenance could be due to an inbound PS5 stock drop, with Currys getting ready for the huge demand it will no doubt bring.
One Twitter user posted: "Currys website down rn my hope is for PlayStation 5 digital to be there as last time they didn't sell them to me could also just be regular maintenance. There is no PS5's in the UK. PlayStation please give Europe and the rest of the world more stock next time US restocks daily".
While another wrote: "CURRYS SITE DOWN, PS5 STOCK?!?!?!"
So far the official Currys PC World website has yet to comment on whether this latest round of maintenance could be for an inbound PS5 stock drop.
The most recent tweet they posted was highlighting a Black Friday deal, saying: "The final deal we're loving.
"Bag yourself an Ultimate Ears speaker from £49.99. With most of their speakers being waterproof and wireless, one of these will be sure to impress for Christmas."
While speaking recently about the next PS5 stock drop, the Team Know How Twitter posted: "We don't have a replenishment date for the PS5 just yet, but stay tuned."
Once the Currys website goes back online bargain hunters will be able to access the tonnes of money saving deals the retailer is running for Black Friday 2020.
Among the offers to look out for are money off deals on Dyson cordless vacuums, Sonos bluetooth speakers, Google Nest Mini and Amazon Echo Dot devices, 4K TVs and much more.
More to follow…