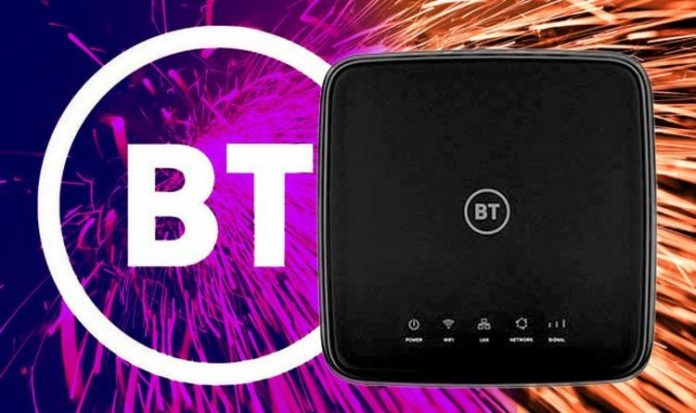 If you're looking to switch internet providers to BT, but aren't living in an area currently covered by any of its fibre connections, the telecoms firm has a new solution to keep your devices up-and-running with some speedy home Wi-Fi. As spotted by the eagle-eyed team at Think Broadband, BT is now offering those not covered by fibre the option to switch to a 4G Home Broadband service instead of traditional broadband.
For those who don't know, this option leverages the same 4G mobile internet used by your smartphone or cellular-enabled tablet to connect to the internet. BT uses the same core network as EE, which has the best coverage across the UK, standing at 99 percent for 4G. In other words, even if you don't have a fibre cable running up to your house, chances are, you're going to be able to connect to a BT/EE 4G mast nearby.
If you've only got access to slower copper cables – and not full-fibre – then 4G could be a better solution. As well as being slightly faster, you'll also be able to place the router anywhere in your home (since it's picking up signals from 4G and not wherever the cable happens to be drilled into your home) and should get a stronger signal at your desk when working from home, or beside your telly when streaming the latest must-binge boxset.
That said, fibre broadband is still significantly faster than this solution. 5G mobile signals are comfortably better than the average UK home broadband speed, which currently sits at around 64Mbps, but 4G is some way behind that. According to BT, those who opt for the newly-launched 4G Home Hub can expect speeds of either 15Mbps or 30Mbps.
These two plans costs £45 a month and £55 a month, respectively.
READ NEXT
Slowest UK broadband revealed – is your street the worst in Britain?
For comparison, full-fibre broadband network Hyperoptic is currently charging £29 for its 150Mbps connection. And for £49 (just a fraction more than the 30Mbps 4G connection from BT), you'll be able to plug a 1Gbps (or 1,000Mbps) broadband connection into your home. Of course, BT beats its own 4G connection prices with its full-fibre plans.
So, if you're looking for the best deal for your home Wi-Fi, this clearly isn't the way to go. Nor is it the ultimate speed boost.
However, it's a sure-fire way of getting a reliable connection, with some alright speeds (Netflix recommends at least 5Mbps to stream its boxsets and movies in High Definition quality), if you're not in living somewhere with a fibre connection plumbed-in right now.
In the small print, BT states: "4G Home Broadband connects you to our 4G mobile network, getting you online quickly, without the need for an engineer or landline. It could give you faster speeds than your standard broadband connection if you can't get superfast broadband in your area."
Plugging in the 4G Home Hub is all you need to do to get started. BT claims the 4G Home Hub has a 30metre Wi-Fi range, so you should be able to connect to devices around your home without any hassle.
EE offers a similar solution for those unable to plug-in to a fibre connection, so it's not that surprising to see BT offer the option too. For those who are really stuck when trying to work from home, or FaceTime family members, this could be a lifesaver over the Christmas period. But needless to say, anyone looking to stream endless hours of television, or download updates to their favourite PlayStation 5 games, should look elsewhere.