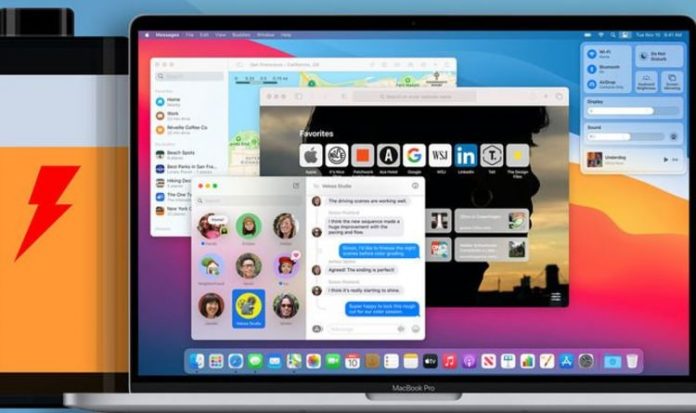 If your MacBook isn't charging properly then you could get a free battery replacement. The refilling issue, which Apple says is affecting a small number of owners, means some laptops simply won't charge past one percent no matter how long they are left plugged into the mains. Users will also see a message in the battery health status which indicates that "Service Recommended."
To fix the glitch, Apple is now replacing these batteries which are tucked inside laptops that were sold between 2016 and 2017.
In a message on its website, the US firm said: "If your 2016 or 2017 MacBook Pro exhibits these behaviours, contact Apple to get your battery replaced, free of charge. Your computer will be examined prior to service to verify that it is eligible for the free battery replacement.
"Apple has also released a macOS update that prevents this issue from happening to other 2016 and 2017 MacBook Pro computers. Please update to macOS Big Sur 11.2.1 or later or install the macOS Catalina 10.15.7 supplemental update."
To check if your MacBook needs to be serviced you can check the battery health by going to the Apple menu and clicking System Preferences, then tap Battery, select Battery in the sidebar, then click Battery Health.
READ MORE: MacBook Air 2020 review: Apple's M1 power means the future looks very bright for the Mac
That check is for users who have upgraded to macOS Big Sur.
If you're using Catalina or earlier, hold the Option key and click the battery icon in the menu bar to reveal the battery status menu.
Along with Apple sorting this MacBook glitch, there's more good news on the horizon for owners of these popular machines.
Apple has confirmed that the latest Big Sur 11.3 release is now in the beta phase which means anyone who is signed up to Apple's developer testing programme can download it and give it a try. A full release should arrive in the coming weeks and one of the biggest changes aims to make the Safari browsing experience better.
Apple says that its Safari Start Page is now more customisable with users able to re-arrange the sections using the customisation controls which include favourite websites, Reading List and Siri Suggestions.
Other extras will improve Apple Music and Apple News plus there's good news if you own a next-gen game controller.
Apple says users can play their favourite games on the Mac using the latest Xbox Series X Wireless Controller or Sony DualSense wireless controller.
There's no word on when Apple will release Big Sur 11.3 to the public but with the beta testing now in full swing it shouldn't be too long.