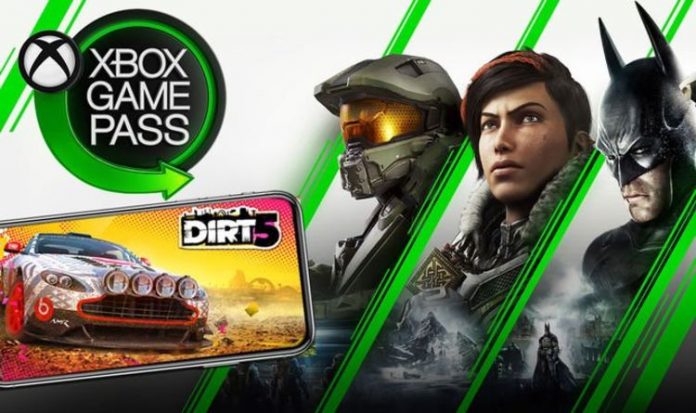 Microsoft has revealed the next set of games coming to Xbox Game Pass in February.
Starting on February 18, Xbox Game Pass subscribers can stream, download and play the likes of Code Vein on PC, Pillars of Eternity 2: Deadfire – Ultimate Edition on console and via the Cloud, and Wreckfest on PC, console and Cloud.
All three games are excellent in their own right, and offer vastly different experiences. Pillars of Eternity 2 is a deep role-playing game with a huge campaign, while Code Vein is a Souls-like with an anime twist.
More great games will follow later in the month, including my personal favourite Xbox Series X launch game, Dirt 5.
Dirt 5 will be available to Xbox Game Pass subscribers on all platforms from February 25.
The arcade-style racing game features lots of gorgeous courses set in locations such as Norway, Italy, China and Brazil.
"Get behind the wheel of incredible extreme cars and tear up the most stunning global locations in Dirt 5 – the next generation of off-road racing," reads the official description.
"The award-winning racer from Codemasters delivers a story-based Career mode, the all-new Playgrounds custom arena hub, customisation options galore, thrilling online party modes and more, all with a pumping official soundtrack and bold art approach."
Dirt 5 is one of the best looking games on Xbox Series X/S, and even supports gameplay at up to 120 frames-per-second.
It joins the Xbox Game Pass library on the same day as Elite Dangerous (console) and Superhot: Mind Control Delete on PC.
The latter is a stylish first-person shooter where time, enemies and bullets only move when you do. This makes it feel almost like a puzzle game.
"Time moves only when you move," reads the official description. "The long-awaited third game in the groundbreaking Superhot franchise, Superhot: Mind Control Delete gives you more insight into the signature power fantasy world of Superhot with more story, more signature gameplay, more action, and more guns.
"Keep dancing the slow-motion ballet of destruction for so much longer than ever before."
Elite Dangerous, on the other hand, is described as a massively multiplayer space epic, where players can explore an entire galaxy.
The final game joining Xbox Game Pass in February is retro-style platformer Killer Queen Black.
Available for console and PC from February 23, Killer Queen Black features co-op and competitive multiplayer for up to eight players.
"Fight for your hive in this strategic team platformer! Killer Queen Black is an intense multiplayer action/strategy platformer for up to eight players.
"Hop on the snail, hoard berries, or wipe out the enemy's queen to claim victory. Fly solo, or team up with three of your friends as you race to complete one of three possible victory conditions."