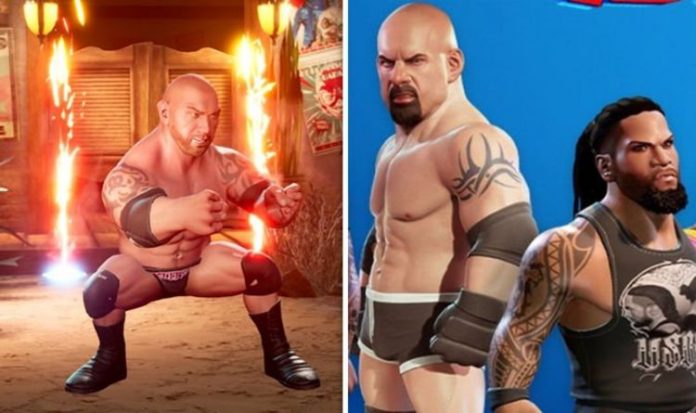 WWE 2K Battlegrounds is adding ten new Superstars to the roster, including legends like Goldberg, Ultimate Warrior and Eddie Guerrero.
The first wave of new Superstars have a November 6 release date on PS4, Xbox One, PC and Nintendo Switch.
The four new characters include Goldberg, Batista, Jey Uso and Jimmy Uso. As 2K points out, some characters will be unlocked at launch, while others will need to be unlocked using in-game currency.
There's no official launch time so far, but Express Online has contacted 2K for confirmation. Check back later for an update.
A second batch of new fighters will be available less than a week later on November 11. 
Eddie Guerrero and Lita will be unlocked right away, while Ultimate Warrior must be purchased using in-game currency.
An update featuring Trish Stratus, Booker T and Ruby Riott will be released on November 18.
The characters will be available via automatic updates, so getting your hands on them should be pretty straightforward.
The updates also add a selection of Superstar and Battleground arena customisation items, including outfits, face paint, arena designs, colour schemes and more.
According to 2K Sports, this is just the first in a series of character updates, which will take the roster to above 50 Superstars.
"2K announced today that 10 WWE Superstars and 20 customisation items will be coming to WWE 2K Battlegrounds in the first of several roster updates starting November 6, 2020," reads a 2K statement.
"Featuring fast-paced action and an assortment of power-ups, special moves, unconventional melee items and interactive environments, WWE 2K Battlegrounds offers a unique arcade style and aesthetic for casual and hardcore WWE games fans alike.
"More than 50 additional Superstars and cosmetic items will be made available in the months to come. You never know who or what might come crashing into the Battlegrounds!"
You can take a look at some of the new characters in the trailer below.
WWE 2K Battlgrounds launched to mixed reviews earlier this year.
The arcade-style wrestling game features standard modes like Exhibition and online multiplayer, as well as a story campaign and King of the Battleground mode.
"Take on all comers in the King of the Battleground, an online, last-man-standing mode where four players start in the ring while four more wait outside to enter, challenging you to run the gauntlet and defeat them all," reads the official description.
The campaign, meanwhile, gives one of seven newly created characters the chance to earn a WWE contract.
"Along the way, you'll unlock new arenas, inspired by locations such as the Everglades, a military-style Bootcamp, Mexico, New York and Scotland, while receiving guidance from legendary personalities including 'Stone Cold' Steve Austin and Paul Heyman," 2K explains.
The action takes place in eight different arenas, each with unique interactive elements that can be used to pummel your opponents.