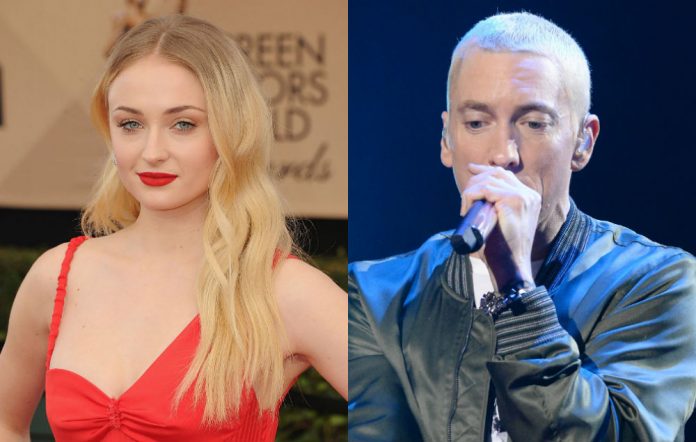 She busted out the rap while appearing on 'The Late Late Show'
Sophie Turner stopped by The Late Late Show with James Corden yesterday (June 21) and surprised the audience with a word-for-word rendition of Eminem's 'The Real Slim Shady'.
The Game of Thrones actress was a guest on the show alongside Foo Fighters frontman Dave Grohl. During the interview, she told Corden that she spits "pure fire."
Corden challenged her to show off her skills, prompting Turner to give a word-for-word perfect performance of Eminem's 2000 hit, 'The Real Slim Shady'. Watch that performance below.
Earlier this month, Turner unveiled a new tattoo that could hint at the future of her Game of Thrones character, Sansa Stark.
The tattoo of a dire wolf and the words: "The pack survives." was created by artist Lauren Winzer, who shared the image of her handiwork on the star's body on Instagram.
The phrase has cropped up in George R.R. Martin's books, on which the TV series is based, as well as in the show. "The lone wolf dies, but the pack survives," Sansa told Arya in episode seven, season seven. The tattoo could be referencing either of those moments or, as some fans have speculated, what lies ahead in the new episodes.