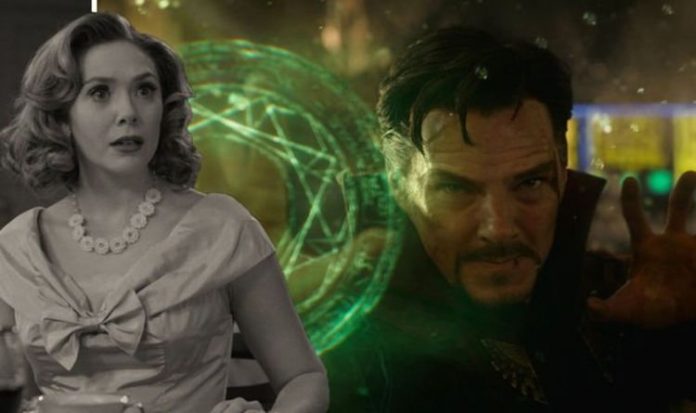 WandaVision is coming out on January 15 on Disney+, which is not soon enough for the most die-hard fans. Given Black Widow did not hit cinemas when it was expected to, fans have been waiting for new Marvel content for more than a year. This has finally arrived, and it looks as though Scarlet Witch (played by Elizabeth Olsen) may be creating more storylines for upcoming movies.
WandaVision is proposed to be the gateway through which Phase Four in the Marvel Cinematic Universe (MCU) takes place.
The official synopsis for the series reads: "The series is a blend of classic television and the Marvel Cinematic Universe in which Wanda Maximoff and Vision—two super-powered beings living idealized suburban lives—begin to suspect that everything is not as it seems."
In the trailer, Scarlet Witch and Vision (Paul Bettany) feature in an American domestic sitcom world.
However, this sitcom seems to move through time, with the couple riding bicycles in the 1960s while also doing dishes in their 1940s home, and chatting in workout gear from the 1980s.
READ MORE:  WandaVision characters: Wanda and Vision's relationship timeline
As well as that, Wanda and Vision are concerned by what is going on in their domestic bliss, with some strange characters moving through time with them, and items in their home moving decades in an unexpected manner.
At the end of the official trailer, a voice is heard calling to Wanda, asking if she can 'read' them.
This has prompted fans to suggest a particular theory on what has happened in WandaVision, known as the House of M storyline.
House of M is a 2005 comic book storyline in which Scarlet Witch suffers a mental breakdown and tries to alter the fabric of reality to recreate her lost children.
While the MCU Scarlet Witch doesn't have children, she has lost something very important to her: Vision.
In Avengers: Infinity War, Vision is killed when Thanos removes the Mind Stone from him in order to complete the Infinity Gauntlet.
This kills Vision, who needs the stone to survive, and leaves Scarlet Witch utterly heartbroken, so much so that in Avengers: Endgame, she tries to take on Thanos herself and almost beats him.
The moment when Scarlet Witch is up against Thanos reveals the magnitude of her power, and it would therefore make sense that she could alter reality and create a multiverse in a state of strong emotion.
DON'T MISS
Given the upcoming Doctor Strange movie is called Doctor Strange in the Multiverse of Madness, it may be he has to navigate the realities created by Scarlet Witch to bring order back to the world.
As well as this, WandaVision's director Matt Shakman has revealed the series will 'seamlessly' connect to this film, as well as the upcoming Spider-Man 3 movie, which will also include a multiverse.
He told Comicbook.com: "It's a relay race, this whole thing. And so you're passing the baton from one group of filmmakers to another and you want to make sure that handoff is, is effortless and perfect, right."
In the upcoming Spider-Man film, two villains from previous incarnations of the hero – Jamie Foxx's Electro and Alfred Molina's Dr Octopus – are reprising their roles.
As well as this, there has been talk of Tobey Maguire and Andrew Garfield, who have both played Spider-Man, entering the MCU and being part of a multiverse movie with Spidey at the centre.
This has previously been considered in the film Spider-Man: Into the Spider-Verse, an animated movie from Sony.
However, if Scarlet is behind the multiverse, it will be she who creates a world where these three friendly, neighbourhood heroes can co-exist.
Additionally, Doctor Strange has already been confirmed as a character in Spider-Man, meaning these three parts of the franchise are inextricably linked.
While it will not be clear until WandaVision hits screens as to how the multiverse has happened, it may be this upcoming series is a bit of a head-scratcher for fans.