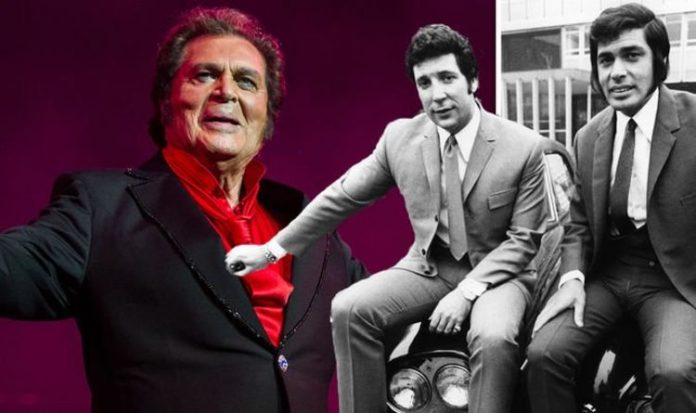 Sir Tom Jones skyrocketed to fame in the early 1960s, when he made the move from South Wales to the USA. He was aided by his manager, Gordon Mills, who also took on other acts like Engelbert Humperdinck. Soon, the relationship between these stars faded – but what happened to cause the rupture?
Sir Tom Jones was taken on by promoter Gordon Mills in 1963, telling the singer to change his name from Thomas Woodward to Tom Jones, to capitalise on the award-winning film of the same name.
Gordon got Sir Tom a contract with Decca and soon he was in the USA making millions, releasing the James Bond theme tune for Thunderball and becoming a sensation all over the country.
Only a year after Sir Tom's first single broke into the top of the charts, Gordon had taken on another young talent, Arnold 'Gerry' Massey, whose name was changed to Engelbert Humperdinck.
Speaking to Express.co.uk, Tom Jones biographer Colin Macfarlane described the way in which this name change came about as well.
READ MORE: Cliff Richard name: What is Sir Cliff's real name? Why did it change?
Colin said: "Gordon didn't only have Tom but also Engelbert Humperdinck.
"Engelbert Humperdinck at that time was a guy called Arnold Massey. He had known Gordon for years and said, 'Gordon, can you make me like Tom?'
"Gordon said, 'Well, no I can't, you've been around too much. I can't make you like Tom.'
"But Gordon got drunk one night and looked at the records by his player and there was an album by a guy called Engelbert Humperdinck [the classical composer].
"And he thought, 'F**k it, that's what we'll do, we'll call Arnold Massey, Engelbert Humperdinck.'
"And he phoned everybody round saying, 'I've found this great new singer Engelbert Humperdinck, and Arnold Massey could not even pronounce his own name for at least three weeks…
"When he first appeared everyone said, 'Who's this guy Engelbert Humperdinck?'"
Of course, given the two men were fighting in the charts, this could have caused a rivalry, though working under the same manager could have also brought them closer together.
DON'T MISS
However, Engelbert has referred to a "silly grudge" between himself and Sir Tom which he hopes to bury.
Speaking to the Sunday Mirror, he said: "One good thing to come out of this pandemic is that it's brought the world ­together. There's more kindness everywhere.
"In that context, a silly grudge seems so petty somehow. And I want to say that I'm sure Tom feels that, too.
"I'd love it if we could finally mend that broken bridge. I certainly respect his ­talent.
"I think he's one of the greatest singers the world has known. I do admire him very much."
Engelbert said he would "embrace him warm" if Sir Tom were to knock on the door, and tried to reach out in 2016 when Sir Tom's wife, Linda, died.
He said: "It seems such a shame. It doesn't have to be like this…
"I was devastated when I heard she'd [Linda] passed.
"I sent my condolences to Tom. Sadly, he didn't respond."
The genesis of their "grudge" came when Engelbert parted ways from their record label, MAM, which was launched by Gordon, Sir Tom and Engelbert.
Speaking to Metro, Sir Tom also addressed the feud, being asked if he and Engelbert could ever make amends.
He replied: "No. It's as I say — once a c**t, always a c**t."