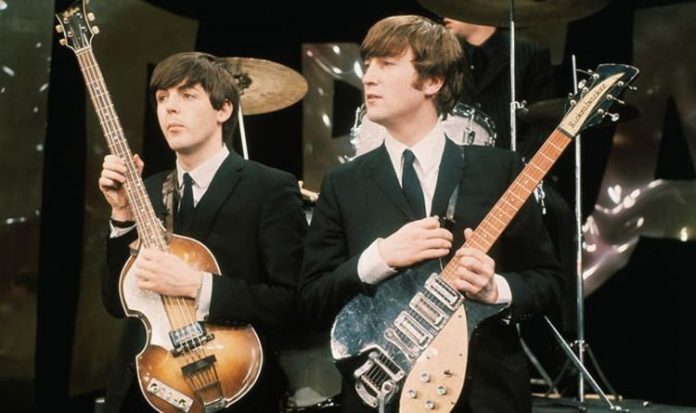 During the 1960s, Paul McCartney and John Lennon's songwriting partnership in The Beatles was the stuff of legend. And while John was tragically killed 40 years ago, Sir Paul has shared how he still considers what his dear friend would think of his new music today. The 78-year-old made the reveal while talking about his brand new solo album McCartney III, which is released next month.
In a new interview, Sir Paul was asked if he mentally consults John when writing new material.
The Beatle replied: "Yeah, often. We collaborated for so long, I think, 'OK, what would he think of this? What would he say now?'
"We'd both agree that this new song I'm talking about is going nowhere. So instead of sitting around, we'd destroy it and remake it.
"I started that process yesterday in the studio."
READ MORE: The Beatles: 'John Lennon used music as a psychiatrist' says Paul
Sir Paul continued: "I've always got my guitar kind of handy and it's a friend.
"You talk to a lot of guitar players or instrument players and that's what they'll tell you.
"You kind of get a relationship with this inanimate object. It becomes very important"
Reflecting on the early days with John Lennon, the 78-year-old told Radio 6 Music: "In the early days of The Beatles we always used to – me and John – used to sort of say it was like a psychiatrist."
Sir Paul added: "You'd be feeling a bit down and you'd go off in a cupboard somewhere and start playing and you'd work your way through it and you'd feel better. So it is really important."
His new solo album, McCartney III sees the star sing and play all the musical instruments by himself.
The record follows in the tradition of his first two solo albums McCartney and McCartney II.
Both of those celebrate their 50th and 40th anniversary this year, so maybe we can expect McCartney IV in 2030?
Sir Paul didn't intend on recording an album this year, but it all sort of came together while living in lockdown.
The 78-year-old said: "I had to do a little bit of work on some film music and that turned into the opening track and then when it was done I thought what will I do next? I had some stuff I'd worked on over the years but sometimes time would run out and it would be left half-finished so I started thinking about what I had.
"Each day I'd start recording with the instrument I wrote the song on and then gradually layer it all up, it was a lot of fun. It was about making music for yourself rather than making music that has to do a job. So, I just did stuff I fancied doing. I had no idea this would end up as an album."
McCartney III will be released December 11, 2020 on Capitol Records across digital platforms, on CD, and on LP manufactured by Third Man Pressing and can be pre-ordered here.