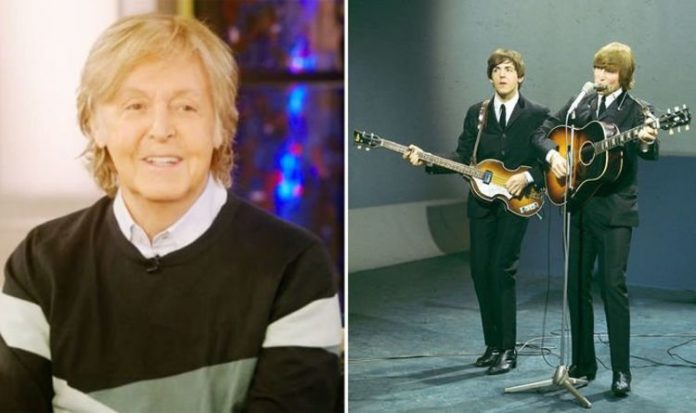 With the release of his latest solo album this week, Sir Paul McCartney has been doing the interview rounds. And more recently he took part in a special chat with actor Idris Elba which aired on BBC One last night. During the interview, the 78-year-old spoke of his unique songwriting process with John Lennon.
Appearing on Idris Elba Meets Paul McCartney, The Beatles legend said: "With the music scene, I think I'd have to say it was meeting John and suddenly having this friendship with this cool guy who was like a year and a half older than me. And when you're a teenager that's a big thing.
"He was slightly ashamed of me and very ashamed of George… Nah not really!
"But at that age, he must have asked himself, 'Why am I hanging out with these little boys?' He was the first person I'd ever met who had written some songs."
The 78-year-old then went on to speak of their Lennon-McCartney collaboration, the most successful songwriting partnership in music history.
READ MORE: Paul McCartney: Why is John Lennon's name first in Lennon-McCartney?
Sir Paul said: "Me and John was special. We grew up, y'know, wrote our first little songs; got better together.
"So that was totally something else and you can't repeat that, you can't."
The Beatle noted that when other musicians ask him to write with them now, he expects it to be like how it was with John.
He said: "I'll start a little bit of something and they'll carry it on."
Sir Paul also recently appeared on The Adam Buxton podcast, while promoting McCartney III. The rock legend spoke of making up with John after The Beatles' break-up 50 years ago.
He said: "During The Beatles break-up it was very difficult and I was getting blamed for it all and I knew I wasn't to blame. But over the years I would drop in John's place [in New York City]."
Sir Paul shared how he would be what he felt was a typical Liverpudlian tendency of just showing up without prior warning.
It took him a while to realise that wasn't the done thing in New York and so John requested he ask in advance. Apart from the visits, Sir Paul would have regular chats on the phone with John.
Sir Paul said: "We would talk on the phone…we had some great ordinary conversations that were very sort of endearing."
Their conversations could be as normal as talking about baking bread at home, which saw them both exchange recipes with each other.
The 78-year-old remembered: "It was lovely, this was how it had been when we met with just a couple of guys chuntering on about insignificant stuff. So I was very happy to have got back our friendship, which The Beatles break-up had nearly ruined. But in actual fact, it all calmed down and in the end, I was friends with all the guys."
Idris Elba Meets Paul McCartney is available on BBC iPlayer now.