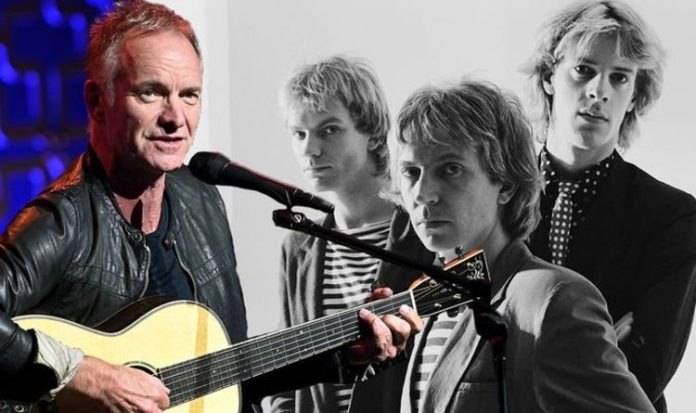 Sting, like Madonna and Prince, is known by just that one name. He has risen high in the charts with his big hits Every Breath You Take and Shape of My Heart, both as a solo performer and as the frontman of The Police. But why did the singer decide to change his name to the mononym we know and love?
What is Sting's real name?
Sting was born on October 2, 1951, with his given name, Gordon Sumner.
He was born in Wallsend, Northumberland, to a working-class family, and became obsessed with playing the guitar at a young age.
As a teenager, he started going to nightclubs to watch famous musicians perform, eventually going to university before dropping out.
READ MORE:  Judas and the Black Messiah: How Daniel Kaluuya was 'tested' for role
"I used to wear these yellow and black sweaters and they thought I looked like a wasp.
"They used to joke, 'Sting, Sting!' and they thought it was hilarious and they kept calling me Sting. And that became my name."
As a result, Sting's change of name did not really come from his own choosing, but now he is barely known by any other name.
In fact, he told a journalist in 1985: "My children call me Sting, my mother calls me Sting, who is this Gordon character?"
DON'T MISS
He said he is "never" called by his birth name at this point in his life, telling TIME in 2011: "You could shout Gordon in the street and I would just move out of your way."
In 1977, he left his home of Newcastle and moved to London, joining Stewart Copeland and Henry Padovani to form The Police.
Soon, Henry was replaced by Andy Summers, and the band line-up fans know today was born.
For the next 10 years, the band had huge success, winning six Grammys, two Brit Awards and releasing five albums, all of which topped the UK charts.
Their most successful song, released in 1983, was Every Breath You Take, which won two Grammy Awards alone, as well as the Ivor Novello Award for Sting's songwriting.
As the band's success continued, he began collaborating with other artists and by the late 1980s, he was performing as a solo artist.
Throughout the 1990s and 2000s, he continued to perform as a solo artist until he reunited with The Police, opening the 2007 Grammy Awards with Roxanne.
As has often been his way, Sting has continued to collaborate with other artists, going on joint tours with Paul Simon and Peter Gabriel in his solo career, while also doing covers and working with known artists.
While he may have been called Gordon at birth, his musical legacy will always be known as that of Sting.