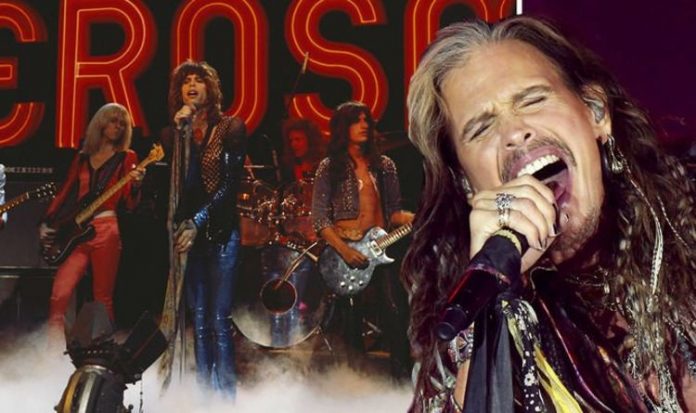 Steven Tyler, while being a renowned singer and instrumentalist, is best known for his brilliant music and lyrics. He is the main songwriter in Aerosmith, alongside Joe Perry, and has been since the band's inception. One of the songs which helped their meteoric rise to fame was Dream On – but what is the song about?
Dream On is, as is the case for many Aerosmith songs, very personal for Steven Tyler.
According to the man himself, the song was written before Aerosmith was even part of his life.
Speaking in the autobiography of the band, Steven revealed the song was written when he was a teenager about his dreams, and trying to make them a reality.
He said: "The music for Dream On was originally written on a Steinway upright piano in the living room of Trow-Rico Lodge in Sunapee, maybe four years before Aerosmith even started.
READ MORE:  The Beatles songwriting: How one man turned down song from John Lennon
"This song sums up the s**t you put up with when you're in a new band.
"Most of the critics panned our first album, and said we were ripping off the Stones.
"That's a good barometer of my anger at the press, which I still have.
"Dream On came of me playing the piano when I was about 17 or 18, and I didn't know anything about writing a song.
DON'T MISS
"It was just this little sonnet that I started playing one day. I never thought that it would end up being a real song."
In his own book, Does The Noise In My Head Bother You?, Steven describes how his father, also a musician, was also part of the inspiration for the song.
According to Steven, he would listen to his father playing piano, sitting underneath the instrument listening to his father playing classical music.
He said: "That's where I got that Dream On chordage."
It has also been reported Steven felt he could be himself on this song, allegedly only using his "real voice" on this song compared to others on the same album Toys in the Attic.
Apparently, Steven was concerned by his higher range and attempted to lower his voice on other songs on the album.
However, as Dream On fans know, Steven reaches enormous heights as, eventually, the song grows to a climax with a full-throated scream from the singer.
Despite being a classic and favourite with fans, the song did not chart as well as many might expect.
On its release in 1973, the song only reached Number 59 in the Billboard Hot 100 in the USA, climbing to Number Six in 1976.
It has been performed in most of the band's live sets, and on its 10th anniversary a music video was released, as recorded at a special performance with a live orchestra on MTV.
The song has also been sampled by other artists, with Eminem using some of it in 2002 on his song Sing for the Moment.
On this track, Joe Perry and Steven Tyler both feature, though Joe's guitar solo is the key element.