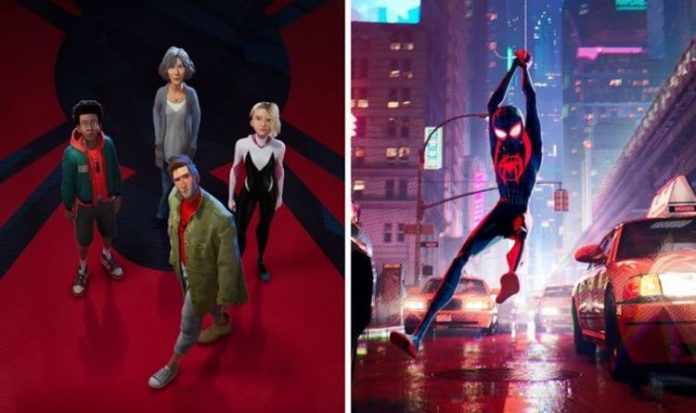 Spider-Man is a fan favourite among the Marvel superheroes in the comics and in film. Tom Holland is the current Spider-Man in the MCU, but in Spider-Man: Into the Spider-Verse, we learn of how many Spider-Men there truly are. But is this movie on Netflix, so fans can dig even deeper into the world of Spidey?
Is Spider-Man: Into the Spider-Verse on Netflix?
Spider-Man: Into the Spider-Verse is arriving on UK Netflix on November 6.
This film is perfect for all the family, despite being an animated film which many would consider to be aimed at children.
Instead, this film is whip-smart and full of laughs for adults as well as kids, and gives a brilliant insight into the world of our friendly neighbourhood Spider-Man.
READ MORE: Michael Jackson The Beatles: Does MJ still own The Beatles songs?
What is Spider-Man: Into the Spider-Verse about?
The official synopsis from Sony Pictures reads: "Phil Lord and Christopher Miller, the creative minds behind The Lego Movie and 21 Jump Street, bring their unique talents to a fresh vision of a different Spider-Man Universe, with a groundbreaking visual style that's the first of its kind.
"Spider-Man: Into the Spider-Verse introduces Brooklyn teen Miles Morales, and the limitless possibilities of the Spider-Verse, where more than one can wear the mask."
This does not give too much away, but the plot pretty much follows Miles (voiced by Shameik Moore) as he discovers he is not the only Spider-Man out there, and he must team up with some of his fellow Spideys to stop a threat to their realities.
There are other voices playing the parts of the different Spider-Men, including New Girl's Jake Johnson as Peter B. Parker, Chris Pine as Peter Parker, and Nicolas Cage as, you guessed it, Peter Parker.
Of course, all of these versions of Peter are different, and come from different aspects of the Spider-Man comics.
There is also a female, Japanese Spider-Man, called Peni Parker, and Peter Porker, a fun, anthropomorphic animal version of the character.
All of these different heroes must come together, with brilliant and hilarious results.
DON'T MISS
Is Spider-Man: Into the Spider-Verse part of the Marvel Cinematic Universe?
While there have been animations or animated moments in the MCU, sadly this is not one of them.
That is due to Spider-Man, as a character, belonging to Sony Pictures rather than Marvel Studios when it comes to the movies.
Similarly, the X-Men universe was owned by Fox, however, Disney, after it acquired Fox and Marvel, has brought these under the same banner and allowed them to work together.
Until recently, Spider-Man was kept out of the MCU entirely, with its films running separately to those run by Marvel.
However, Tom Holland's Peter Parker has seen a collaboration between Marvel and Sony, meaning the character exists both in the Marvel Universe, and also separately, meaning his standalone movies are planned by Sony.
With that being said, Spider-Man: Into the Spider-Verse is a purely Sony Pictures production, and does not sit within the timeline of the MCU.
Spider-Man: Into the Spider-Verse comes to Netflix on November 6