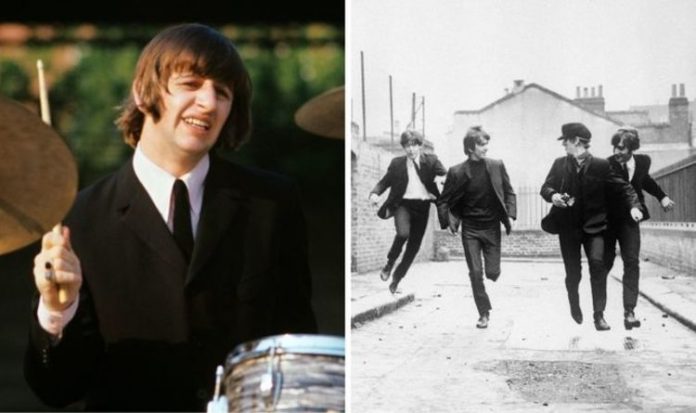 Sir Ringo Starr has dedicated his life to music, first with The Beatles and then as a solo artist. However, his beginnings were difficult to manage, and he spent a year away from his family. Despite these hardships, Sir Ringo was able to find the thing he loves most: the drums.
Sir Ringo was born Richard Starkey, the only child of confectioners Richard Starkey and Elsie Gleave on July 7, 1940.
Like his bandmates, he is from Liverpool, though he was born in the Dingle area of the inner city.
Young Richard Starkey was first introduced to percussion as a young boy, but his introduction to this instrument was a very sad one indeed.
According to Bob Spitz's The Beatles: A Biography, Sir Ringo developed appendicitis at the age of six.
READ MORE:  Paul McCartney Bob Dylan: Were Beatles legend and Bob Dylan friends?
While this is usually routine, he contracted peritonitis, which caused him to fall into a coma which lasted some days.
Peritonitis is the inflammation of the thin layer of tissue that lines the inside of your abdomen, but the infection meant he had to recover at Liverpool's Myrtle Street children's hospital for an entire year.
In 1948, he was discharged, but he was allowed to stay home due to his fragile health state.
This caused him to miss a great deal of school, but this was not the end of Sir Ringo's health difficulties as a child.
In 1953, he contracted tuberculosis and was admitted to a sanatorium, where he remained for two years.
This means, altogether, he spent three years of his childhood in hospital with severe illnesses, meaning his education was significantly impaired.
However, it was this second stint in hospital where a young Sir Ringo found the love of his life in his drum-kit.
He said in The Beatles Anthology: "I was in the hospital band… That's where I really started playing. I never wanted anything else from there on…
"My grandparents gave me a mandolin and a banjo, but I didn't want them.
DON'T MISS
"My grandfather gave me a harmonica… we had a piano – nothing. Only the drums."
As well as this, the medical staff encouraged their patients to join the hospital band to relieve their boredom, and soon Sir Ringo was playing a makeshift drum-kit from items in the hospital.
According to Bob Spitz's book, he played a makeshift mallet made from cotton bobbins, which he would use as his drum stick and would hit cabinets and other items near his bed.
As his education took a major blow due to his health, the drums was a love of his which continued, though he had no formal training.
One thing which marked Sir Ringo out from other drummers, however, is his left-handed style, as he leads most drumming with his left hand.
Speaking to Conan O'Brien, Sir Ringo once said he was taught to write with his right hand, but he is naturally left-handed and therefore plays a right-handed drum kit the wrong way round.
Eventually, Sir Ringo did more than just play the drums while in The Beatles, which came after he played in various skiffle bands before joining the group in 1962.
After some time working with John, Sir Paul and George, Sir Ringo provided lead vocals on at least one song per album, as well as writing some of the band's hits such as Don't Pass Me By.
As well as this, Sir Ringo's third solo album from 1973, Ringo, was an almost Beatles reunion as each member of the band worked on it with him at different times.
Sir Ringo was not the only famous musician to have a similar hospital experience as a child: Sir Tom Jones was bedridden for two years with tuberculosis as a child, and reportedly did "little else" but listen to music.