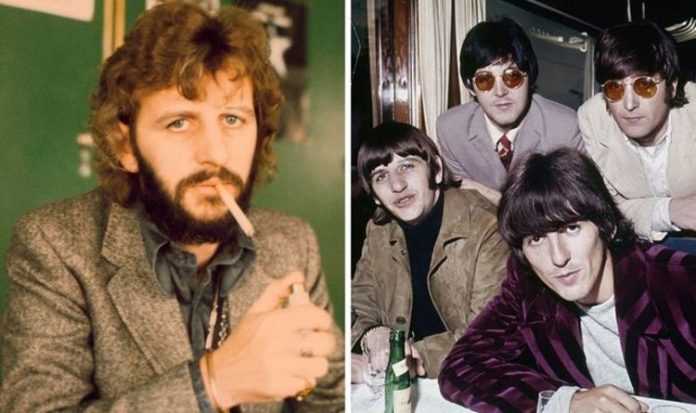 Sir Ringo Starr is known for being the drummer of The Beatles, but his private life has also been filled with friends and family. He has had two wives and children as well, and took on stepchildren in his later life. But does The Beatles star have a son and has he followed in his father's footsteps?
Sir Ringo Starr met his first wife, Maureen, then 15, when she regularly went to The Cavern Club in Liverpool, where she met the drummer, who she called "Ritchie."
She was a hairdresser, as well as a fan of the band, and soon she went on holiday with them after dating Sir Ringo for a short while.
However, she was not the only girl after Sir Ringo. Maureen was once scratched in the face by a Beatles fan rival, showing how the band were starting to get more famous by the time these two got together.
The couple got married in 1965 after Maureen found out she was pregnant, and she then had three children: Zak (born September 13, 1965), Jason (born August 19, 1967) and Lee (born November 11, 1970,) the first of whom is also a drummer.
READ MORE: ABBA band members: What have the women from ABBA done since the split?
Sir Ringo, therefore, has two biological sons, Zak and Jason.
Zak has followed in his father's footsteps and became a rock drummer just like his dad.
Zak has performed with some great acts such as Johnny Marr, Paul Weller, The Lightning Seeds and John Entwistle, as well as becoming Oasis' third drummer.
Since 1996, he has been a drummer for The Who, touring with Roger Daltrey and Pete Townshend for their Quadrophenia tour.
He has contributed to their albums a great deal over the years, playing on some tracks on their 2020 album WHO.
But Ringo has admitted to not being around very much during his children's lives, saying he had been absent partly due to his drinking.
Michael Seth Starr, a biographer of Ringo's has said his relationship with Maureen also made things difficult, and this deteriorated after a series of infidelities, including Maureen having an affair with George Harrison.
He said: "Ringo and Maureen's relationship was already on the rocks when George and Maureen had their fling — and I think it was the final "nail in the coffin" of their marriage, so to speak.
DON'T MISS
"I don't think Ringo ever recovered from that in terms of trying to make his marriage to Maureen work. And he was fooling around with other women, too, so…
"Ringo and George eventually got past that blip in their friendship (though it was a pretty big blip) and remained good friends.
"And don't forget that Ringo was at Maureen's bedside when she died in 1994 — so they, too, eventually reconciled that part of their relationship.
"After all, Maureen was the mother of Ringo's three children, so that also linked them together."
Eventually Sir Ringo married Barbara Bach, his current wife, after appearing together in the film Caveman.
The couple married at Marylebone Town Hall on April 27, 1981, but the pair had an unhealthy relationship with alcohol.
In the 1992 book Getting Sober by former Beatles press officer Derek Taylor, they wrote in the foreword: "We used to go on long plane journeys, rent huge villas, stock up the bars, hide and get deranged."
As this had been mentioned as a difficult part of Sir Ringo's relationship with his children, when the couple sought help in 1988, this would have helped to heal the family as well.
They have been sober ever since.