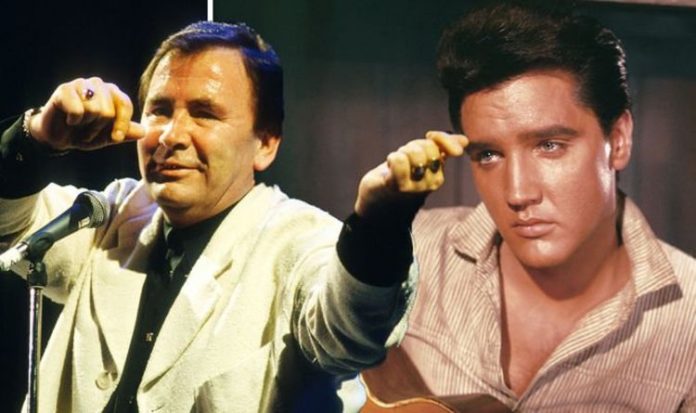 Reg Presley is a singer-songwriter known best for his version of Wild Thing and Love is All Around with his rock 'n' roll band the Troggs. His career lasted from the 1960s until his death on February 4, 2013. But is Reg Presley, a fellow musician, related to American superstar Elvis Presley?
Is Reg Presley related to Elvis Presley?
Reg Presley, though sharing a last name with The King, is not related to Elvis as far as can be seen.
Instead, much in the way Elvis was given the name The King for his rock 'n' roll royalty status, Reg was also given this iconic name by the press.
In fact, Reg was born Reginald Maurice Ball on June 12, 1941 in Andover, Hampshire.
READ MORE:  Liberace death: How did Liberace die? What was he most famous for?
He started playing musical instruments throughout his childhood and was inspired by skiffle, blues and folk in his early teenage years.
By the time he was old enough to move into the music business, he instead worked as a bricklayer, and had to be coaxed into taking up music.
Eventually he did decide to join in some musical endeavours, and eventually formed The Troggs in 1964.
By 1965 the line-up, which included Reg, Chris Britton, Pete Staples and Ronnie Bond were signed by budding record producer Larry Page.
Larry was better known for signing a small band called The Ravens, who he renamed The Kinks and became one of the biggest bands in the UK.
Reg's band signed up with CBS Records and released Lost Girl, their first single, in 1966. At which point, Larry decided to try and help his lead singer make a better name for himself.
Larry turned to New Musical Express journalist Keith Altham for help in finding a better stage name, who turned to the biggest name in rock 'n' roll – Presley.
While it is not clear whether this name was directly taken in reference to The King, it seems likely, given by this point Elvis's focus was mainly on his film work and providing songs for soundtracks.
DON'T MISS
Reg's new name, Reg Presley, was listed in an issue of NME with the band, however, given Larry forgot to mention this to Reg, there was an altercation where he believed he had been replaced.
He had not been replaced, and the Troggs continued to have some major hit over the years.
Their 1966 cover Wild Thing was one of their most famous songs, but Reg was also writing music, even before the band made it big.
He told Stuart Maconie on BBC Radio 2 in 2010: "I started writing on the building site when I was a brick-layer. We needed songs and when I was brick-laying…
"I'd finished With A Girl Like You and… in 45 minutes we had to get our gear in the studio, do the two songs and get out, because it was the end of his orchestra session and he left us only 45 minutes…
"I mean our first album only took two and a quarter hours, how do you do that? It almost takes that to play it."
His 1968 song Love is All Around was incredibly famous, being covered in 1994 by Wet Wet Wet for the movie Four Weddings and a Funeral, and later being included in Love, Actually.
So, while both singers have left a long legacy of good music, they are not related to one another.