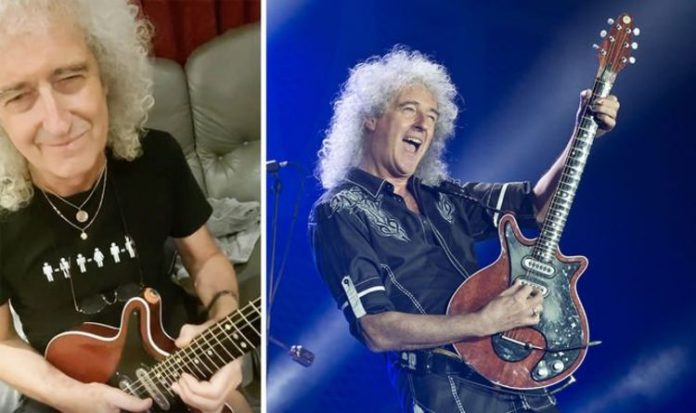 Brian May has had a varied and eventful 2020 full of ups and downs. The 73-year-old kicked off the year with Queen and Adam Lambert's Rhapsody tour across Asia and Oceania. But when the pandemic shut down the world, the band were stuck at home, with May entertaining fans with micro-concerts on Instagram.
Amid remotely recording charity single You Are The Champions, May suffered through a series of health problems from tearing his Gluteus Maximus to having a heart attack.
But the tenacious rock star is now on the mend, promoting and releasing both Queen and Adam Lambert's No 1 album Live Around The World and another charity track with WOMAN in I'm A Woman.
If that weren't enough, May has now announced plans to re-release some of his much-loved solo material.
Writing on his Instagram account, the 73-year-old wrote: "Can't believe so much water has flowers under the bridge since my first full solo album was released.
READ MORE: Freddie Mercury was 'challenging but wonderful" says Brian May
Speaking exclusively with Express.co.uk, on celebration plans, May told us: "It's funny because we've been looking at all this and Roger and I are going, 'Do we really want to celebrate being that old?'"
He and Taylor, who are the only active members of Queen today, have been looking at all sort of designs and logos to mark 50 years of the band.
But afterwards, the Queen guitar and drummer said to each other: "Actually I don't think we want to do that, we just want to get out and play."
So, for now, such on-display celebrations of the 50th anniversary have been shelved.
May added: "We want to celebrate being alive and being live. That would be the greatest thing to celebrate.
"I don't really care how long it's been to be honest. I'm just grateful that we're here."
Nevertheless, the rock legend says Queen and Adam Lambert would be up for performing at The Queen's Platinum Jubilee in 2022 if asked.
May famously played God Save The Queen on the roof of Buckingham Palace for the Golden Jubilee in 2002.