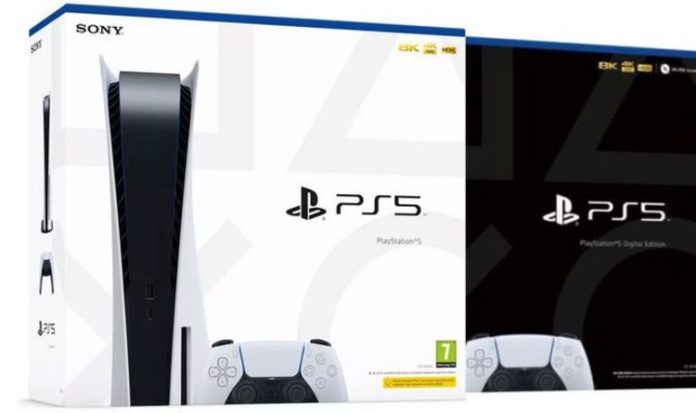 PS5 stock is going live on the Walmart website today, with PlayStation 5 gamers getting a chance to buy online either the PS5 Digital Edition or PS5 console with a Blu-ray drive. Ahead of Black Friday 2020, the Walmart website will be selling their latest batch of PS5 stock. The US retail behemoth said the PS5 Black Friday deals were going live on their website today, instead of Black Friday proper, due to "very high demand".
Both the PS5 Digital Edition and PS5 with a Blu-ray disc drive will be available to purchase from the Walmart website at 9pm eastern time, which is 6pm pacific time.
Buy PS5 at Walmart • $499 – GET THE DEAL HERE
Buy PS5 Digital Edition at Walmart • $399 – GET THE DEAL HERE
Walmart is also releasing their next batch of Xbox Series X and Xbox Series S stock for Black Friday today as well, at the same time as the inbound PS5 resupply.
Walmart has a range of other PlayStation games, digital vouchers and accessories that PS5 fans can pick up to go alongside their shiny new consle.
The US retail giant has PS Plus subscriptions, PS5 accessories such as the HD Camera and launch games like Demon's Souls, Spider-Man Miles Morales and Sackboy available to buy.
Just remember if you're picking up the cheaper PS5 Digital Edition it does what it says on the tin, only playing digitally downloaded games so you won't be able to run disc games.
The PS5 launched earlier this month, first in regions such as the US and Japan on November 12 followed by other regions like the UK and Europe the following week.
However, no matter what country you're in there is a common theme – PS5 consoles have been like gold dust, with stock flying off the shelves whenever it has become available to buy.
Last week when the PS5 went on sale in the UK PlayStation 5 stock sold out at lightning fast speeds, with major websites such as Amazon UK, John Lewis and GAME buckling under the strain of huge traffic caused by high demand.
And this issue hasn't been only happening to gamers in the UK, with US gamers also facing difficulties – with Walmart among the America sites that crashed when PS5 stock became available to buy.
So far the Walmart website has been overwhelmed twice by demand for the PS5, so hopefully it'll be third time's a charm and things will run more smoothly today.
Ahead of the latest PS5 stock drop PlayStation fans have been reassured that more stock will be inbound before the end of 2020.
Earlier today the official PlayStation Twitter posted: "We want to thank gamers everywhere for making the PS5 launch our biggest console launch ever. Demand for PS5 is unprecedented, so we wanted to confirm that more PS5 inventory will be coming to retailers before the end of the year – please stay in touch with your local retailers."
The positive PS5 stock news comes after PlayStation boss Jim Ryan recently gave a supply update following the next-gen console's initial launch. Ryan said: "Everything is sold. Absolutely everything is sold. I've spent much of the last year trying to be sure that we can generate enough demand for the product.
"And now in terms of my executive bandwidth I'm spending a lot more time on trying to increase supply to meet that demand."
The comments came after Ryan previously said Sony had been left "astonished" by the levels of pre-orders for the PS5, and that they were working to get "significant" supplies in for before and after Christmas.
Ryan said: "We're making more PS5's in this difficult environment then we made PS4s in that launch. If people are unable to find one at launch, we're very sorry and apologetic about that.
"They can rest assured we're working really hard to get significant supplies into the market before and after Christmas."
"This is going to be a bigger launch [than the PS4]. And I think given the circumstances we're in, that's something that we can be quietly proud of."
It's rumoured that Sony had initially planned to produce between five and six million PS5 units in the period leading up to next March, but having seen such huge demand for the PS5 have ramped this number up to 10million by the end of 2020.
This article contains affiliate links, which means we may receive a commission on any sales of products or services we write about.
This article was written completely independently, see more details here.