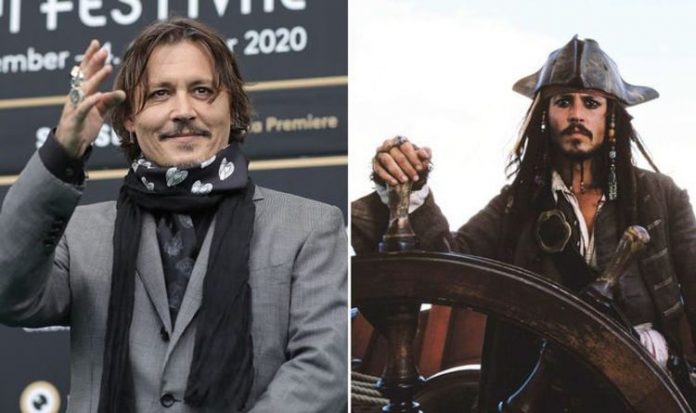 Last year, Johnny Depp lost his libel case in the UK High Court against The Sun newspaper, who referred to him as a "wife beater" – an accusation he strongly denies. His wife Amber Heard, who the star married six years ago, alleged 14 incidents of assault by her ex-husband in the case. While now Depp and his legal team are set to receive an oral hearing in March as they seek to appeal the court's decision.
After losing the case, Warner Bros asked Depp to resign his role of the villain Grindelwald in the Fantastic Beasts series of films, which he accepted.
The star had only shot one scene for the third movie, with Mads Mikkelsen replacing him in the Harry Potter prequels.
Meanwhile, supporters of Depp have been wondering if he'll be able to reprise his role as Captain Jack Sparrow in Pirates of the Caribbean 6 and beyond.
Well according to The Hollywood Reporter, producer Jerry Bruckheimer wanted the 57-year-old to at least cameo in the upcoming Margot Robbie-led spin-off, but allegedly Disney balked at the idea.
READ MORE: Pirates of the Caribbean 6: Johnny Depp return hopes – exciting news
Nevertheless, Depp's fans have been right behind him in calls for the star to be reinstated as Captain Jack Sparrow in the Pirates of the Caribbean movies.
And now a petition titled "We want JOHNNY DEPP back as CAPTAIN JACK SPARROW" is fast approaching half a million signatures."
Written to Bruckheimer and The Walt Disney Company, it reads: "Johnny Depp has been out recently as Captain Jack Sparrow. We don't really know the real reason though.
"He has been playing this role since 2003 when we first saw him arriving at the Port Royal in his boat with that epic background music playing."
They include Mr Gibbs actor Kevin McNally, who features in all five Pirates movies to date as Captain Jack's sidekick.
Also, Lieutenant Commander Theodore Groves actor Greg Ellis, who has been in three of the films, backs Depp's return.
The latter, who told Express.co.uk Pirates 6 won't work without Depp, wrote on Twitter: "I've known JD for over a decade. Worked on 4 movies together.
"Our kids went to the same school. A lovely bloke & great dad."
Ellis added: "I wish more of the actors, filmmakers & studios who benefited financially from working w[ith] him would show more public support. #JusticeForJohnnyDepp."
While McNally said on Ellis' video podcast The Respondent that it would be "criminal" for Depp not to return as Jack Sparrow.
Highlighting his experience of Depp's character he said: "Who knows what goes on behind closed doors.
"But I have never in 22 years of working with Johnny Depp seen anything that would indicate to me he is anything other than a beautiful human being."
READ THE FULL HOLLYWOOD REPORTER ARTICLE HERE