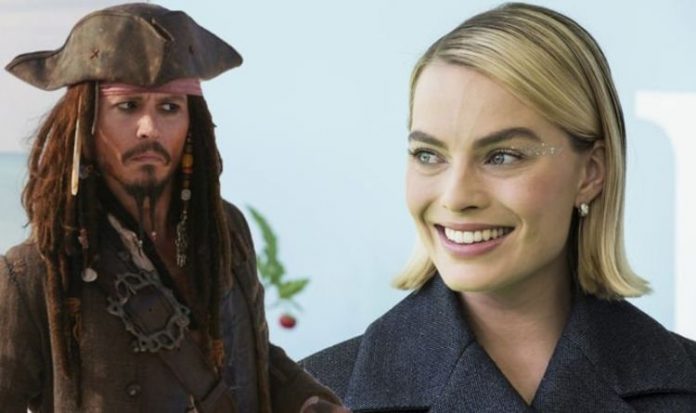 Pirates of the Caribbean enjoyed a powerful trilogy from Disney over the course of 2003 to 2007, starting with The Curse of the Black Pearl, and concluding with At World's End. Shortly after Johnny Depp's Jack Sparrow finished his battle against Davy Jones (Bill Nighy), two spin-off films were put into production, and were eventually released as On Stranger Tides, and Dead Men Tell No Tales, with Depp in the leading role once again. 
Since the public court case involving Depp and his ex-wife Amber Heard hit headlines, reports arrived online suggesting Depp was going to be dropped from his blockbuster franchise.
What's more, Depp was rumoured to be getting replaced by a number of Hollywood actors.
None of these rumours have been officially confirmed just yet, but further reports have suggested a new film has gone into production without the involvement of Depp.
Last month, reports surfaced suggesting Harley Quinn star Margot Robbie would be stepping in as the new protagonist of the franchise in films to come.
These reports are still unconfirmed by Disney, but now seem to have been confirmed by Robbie herself, as she recently appeared in an interview promoting her new film, Dreamland.
READ MORE: Johnny Depp: Jude Law responds to 'UNUSUAL' 'sacking' of Fantastic Beasts co-star
The interview saw Robbie coyly replying to the rumours that she was in the film, before all-out confirming she would be jumping into the franchise – seemingly replacing Depp's Jack Sparrow.
Robbie explained the newly created Pirates of the Caribbean film will include "lots of girl power".
She also went on to confirm other reports saying she would be directed by Birds of Prey boss Christina Hodson.
Robbie said: "It's too early to talk about it. I love Christina, obviously."
Other rumours have also surfaced that Depp's role will be replaced by another wise-cracking male pirate.
Supposedly including in the running to take on another Jack Sparrow-esque role is another comic book movie star – but this time from Marvel.
As reported by an industry insider last month, rumours have suggested Deadpool actor Ryan Reynolds could be taking the lead in a new Pirates movie. 
Again, nothing has been confirmed by neither Reynolds nor Disney, so fans ought to take this news with a grain of salt.
Reynolds' involvement would certainly make sense, though, as the Pirates of the Caribbean franchise was built on Jack Sparrow's other-worldly humour and absurdness.
With Reynolds experience as the fourth-wall breaking assassin Deadpool, he could make the perfect substitute for the legendary pirate.
The Pirates of the Caribbean films are available to watch on Disney Plus now.
READ THE ORIGINAL REPORT HERE