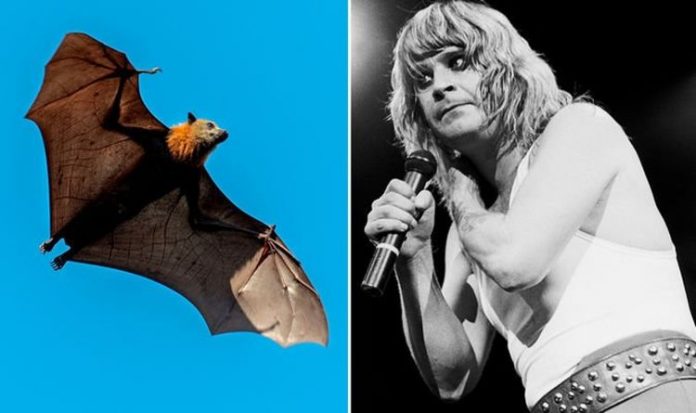 It was 39 years ago today that Ozzy Osbourne was performing a solo concert at the Veterans Memorial Auditorium in Des Moines, Iowa. During the show, the former Black Sabbath singer ended up biting the head off a live bat. Now the 72-year-old has shared how the bizarre incident came about and why it was a mistake.
Ozzy recounted the event in new documentary The Nine Lives of Ozzy Osbourne.
The rock star said: "Something crazy happened every night on that tour. The craziest thing happened in Des Moines, Iowa. The bat was a kinda of an accident, which I did milk somewhat."
It turns out Ozzy originally threw animal parts at his audience, hence they chucked some at him.
On getting the idea, the singer said: "I always liked those old movies where they had custard pie fights. So it gave me this idea to throw, instead of pies, bits of meat and animal parts into the audience. I thought it was hilarious!"
READ MORE: Ozzy Osbourne admitted he didn't understand Brexit
At the end of this tour's show, Ozzy would come out top of a giant head which had a catapult at the back full of raw meat which he'd launch at the audience.
His fans would end up covered in intestines and livers, so they would show up with their own to throw at Ozzy and his band.
He remembered how they would throw raw chickens, sheep testicles, live snakes and even dead rats.
Ozzy said: "Someone threw this frog on stage. It was the biggest frog I've ever seen in my life and it was lying on its back."
Ozzy continued: "Bats are the biggest carriers of rabies in the world. I had to go to hospital afterwards and they came and started giving me rabies shots
"I had one in each rear, and I had to have that every night."
The event made the news and Sharon shared how there were even stories that Ozzy would only go on if he killed so many kittens beforehand.
The singer added: "It got to the point where people expected me to do crazier and crazier things."
In an interview after the event, Ozzy said: "People elaborate and Ozzy Osbourne has been created through them, not through me.
"All I did was get out there and make a mistake of biting the head off a bat.
"And I tell you what guys, it ain't fun when you get them rabies shots!"
The Nine Live of Ozzy Osbourne is streaming on BBC iPlayer.