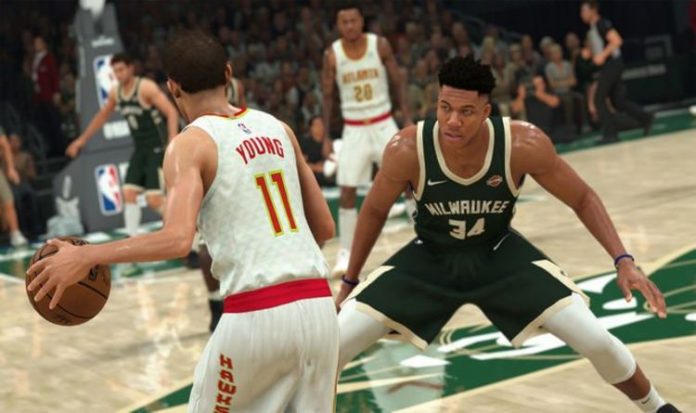 A latest NBA 2K21 update is available to download now, and we're just finding out more about what has changed on current-gen consoles.
Gamers have been discussing the changes online, with users reporting that patch 1.05 weighs in at around 23GB on Xbox One and 13GB on PS4.
There's been plenty of news regarding the NBA 2K series this week, following the official reveal of the new next-gen hub that will be available on PS5 and Xbox Series X.
The City will be taking over from the Neighbourhood and is said to be Visual Concepts "most ambitious execution of a virtual basketball community ever."
Gamers can look forward to plenty of new basketball courts, spread across a much large map.
There will also be four distinct boroughs that are controlled by four rival Affiliations, with each having "their own dedicated borough and set of Affiliation courts within The City. Rep up to Pro 1 by winning a few games in Rookieville, and you'll be assigned to one of these four rival factions.
"If you didn't land in your Affiliation of choice, you can always head to City Hall of the Affiliation you are interested in joining and file a transfer request."
Back to today's NBA 2K21 update and new patch notes have been shared.
Forbes is confirming a list of changes sent to them by 2K developers, including nearly 80 likeness changes being made to current NBA players, WNBA players, and historic NBA players.
Here are the short NBA 2K21 patch notes, via Forbes:
General
Fall updates
We strive for continuous improvements to player likeness and this update brings another set of player likeness and tattoo improvements for nearly 80 current NBA players, WNBA players, and historic NBA players.
New team Statement uniforms for the '20-21 NBA season.
New Ball Arena court floor for the Denver Nuggets.
MyCAREER
The traveling Big Top event is coming soon and updates have been added.
Fixed an art issue that was affecting the basketball machines in Jeff's Arcade.
Fixed an issue where the Roster Viewer screen in some cases could falsely display F grade rating for attributes.
Fixed a rare hang that would sometimes happen after certain drills in the Team Practice Facility.
Fixed an issue in MyCOURT where the player could lose functionality while standing in some specific spots in the living room area.
MyTEAM
Fixed an issue preventing Limited stickers from appearing on cards in the Auction House while Limited is active.
Limited Time Events will now display a date for events that last multiple days.
Addressed an issue where the shot clock would not appear on the scorebug during Triple Threat Challenges.
Fixed an issue where custom badges were not showing up in Triple Threat offline or Triple Threat Challenges.
The Season Menu will now take you directly to your Season Agendas, unless you've leveled up!
Addressed an issue with some members of the crowd jittering during Triple Threat games.
MyLEAGUE / MyGM
All of the end of season awards have been updated now with the '19-20 NBA season and Playoffs having completed.
Fixed an issue where the left stick and D-pad could lose functionality when viewing badges in the player card screens.
Many more fixes included to improve the overall experience of NBA 2K21 across all game modes.
It should be noted that today's NBA 2K21 update is currently only available to download on the PS4 and Xbox One, with other platforms to follow.