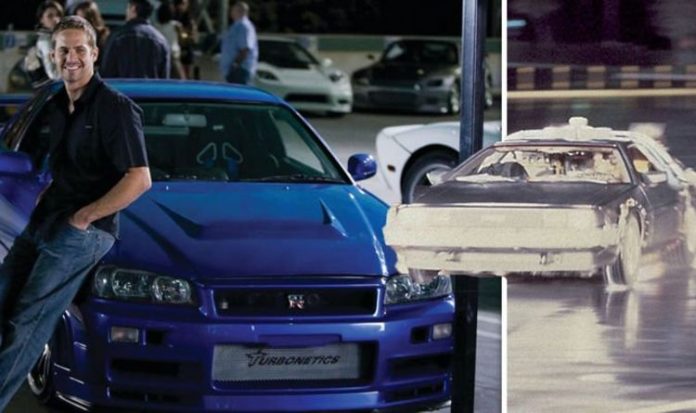 Movies are made up of so many elements from costumes to car chases, depending on the genre. For car enthusiasts, the vehicles from movies can make a film franchise wildly successful, like Fast and Furious. But can you name these iconic movies from the car number plates?
Some movie franchises are focused around cars entirely.
Fast and Furious is one of these, which started out all about drag racing, as well as the animated movie series Cars, also about racing.
There are also more nostalgic movies when it comes to driving, like Le Mans '66, about an iconic race where Ford entered cars into the Le Mans championship, as well as movies like Rush, about the rivalry between F1 drivers James Hunt and Niki Lauda.
Extra to this are movies where cars just happen to feature but become icons in themselves.
Examples of these include the Batmobile from the famous Batman movies, Back to the Future, where Marty McFly is able to go back and forward in time in a famous automobile.
READ MORE:  WandaVision characters: Wanda and Vision's relationship timeline
Questions
1. Name the movie based on this number plate: GEN 11
2. Name the movie based on this number plate: BEATNGU
3. Name the movie based on this number plate: LYN 274
4. Name the movie based on this number plate: PSY WGN
5. Name the movie based on this number plate: ECTO 1
6. Name the movie based on this number plate: OUTATIME
7. Name the movie based on this number plate: SOUTHPAW
8. Name the movie based on this number plate: WOOOF
DON'T MISS
17. Name the movie based on this number plate: STARK 4
18. Name the movie based on this number plate: XAB 235
19. Name the movie based on this number plate: RES1536
20. Name the movie based on this number plate: 81081 01310
21. Name the movie based on this number plate: FLASHDRV
22. Name the movie based on this number plate: 2JRI424
23. Name the movie based on this number plate: ORP 967
24. Name the movie based on this number plate: F3B 250
Answers
1. Chitty Chitty Bang Bang
2. Jeepers Creepers – Creeper's 1941 Chevrolet Truck
3. Gone in 60 Seconds – Eleanor
4. Kill Bill: Vol 1 – Buck's Chevrolet Silverado
5. Ghostbusters – The Ectomobile
6. Back to the Future – DMC DeLorean
7. Rocky IV – Rocky's Lamborghini Jalpa
8. Dumb and Dumber – Mutt Cutts Van
9. Avengers: Endgame – Stan Lee's Oldsmobile
10. Back to the Future Part II – DMC DeLorean (new version)
11. Blade Runner 2049 – Officer K's Spinner
12. Blues Brothers – Bluesmobile 
13. Con Air – Duncan Malloy's Chevrolet Corvette
14. Ferris Bueller's Day Off – Cameron's Dad's Ferrari Spyder
15. Harry Potter and the Chamber of Secrets – The Weasley's Ford Anglia
16. Herbie The Love Bug
17. Iron Man – Tony Stark's Audi R8
18. John Wick – John Wick's Ford Mustang
19. Toy Story – Pizza Planet Truck
20. Robocop – Officer Murphy's Ford Taurus
21. Spider-Man: Homecoming – Flash Thompson's Audi TT RS
22. The Fast and the Furious – Dominic Toretto's Dodge Charger
23. Training Day – Alonso's Chevy Monte Carlo
24. Wayne's World – Mirthmobile